Ysgol Carno: Parents' radical plan to build new school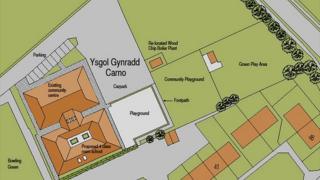 Parents facing the prospect of losing their Welsh-medium primary school have come up with radical plans to build their own.
Powys council wants to close Ysgol Carno, near Newtown, and move its 44 pupils to nearby Llanbrynmair.
Since 1992, children in Carno have had lessons in a temporary classroom after the original school was sold and the proceeds placed in a trust fund.
Villagers now want to use that money to help build a new school.
Ysgol Carno SOS action group has been fighting to keep a school open in the village.
It said the trust fund was controlled by a committee made up of locals who supported plans for the new school.
Ysgol Carno SOS wants to extend the village community centre and build two classrooms, with a view to increasing it to four in the future.
Talks about the plans have been held with the council.
Carno parent and action group member Rhiannon Snape said: "The trust fund is used to help people from the village who are going to university or starting a course.
"I don't know how much is in the trust fund but it's enough for a deposit for the new school.
"We've also been to see a bank and they're happy to support us."
She said support for the new school project in the village was "phenomenal".
"Our temporary school was built on the premise we would get a new building, but that hasn't happened," Mrs Snape added.
"The school is more than a place of learning, it's an integral part of the community."
Powys council said its cabinet "would consider any response generated by the informal consultation period".
A decision about whether to progress with the closure of Carno school and nearby Llandinam, which parents there are also objecting to, is expected to be made at a cabinet meeting on 14 May.
The authority is currently reviewing primary and secondary education throughout the county.