Malcolm Pryce: Aberystwyth noir creator pens BBC Radio 4 play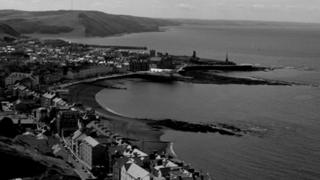 Just how the mid Wales seaside town of Aberystwyth became the Welsh capital of noir is a subject that may have played on people's minds in recent months.
In December it was revealed that the Danish broadcaster behind the hit TV drama The Killing had snapped up the BBC Wales/S4C series Hinterland.
The thinking was that the gritty, four-part detective series, shot in and around the Welsh coastal resort, would go down well with an audience fed on the recent diet of 'Nordic noir' thrillers.
Yet long before Hinterland's Det Ch Insp Tom Mathias clocked on in Aberystwyth, its fictional mean streets were already being pounded by another popular detective.
Private eye Louie Knight, who took on his first case in the 2001 novel Aberystwyth Mon Amour, is the creation of author Malcolm Pryce, considered the originator of Ceredigion's own brand of hardboiled detective melodrama.
The six books in Pryce's series - the most recent being 2011's The Day Aberystwyth Stood Still - combine the best traditions of novelist Raymond Chandler with a winning satire on life in small town Wales and a heady dose of surrealism.
Set in an alternate reality Aberystwyth, run by gangsters and druids and haunted by veterans of the Patagonian War - Wales' own Vietnam - Pryce's stories have acquired cult status, and were adapted for BBC Radio Wales in 2010.
'Parallel universe'
Now listeners to BBC Radio 4 are being exposed to this world as the 52-year-old has penned a new stand-alone Louie Knight story - It Ain't Over Till the Bearded Lady Sings - for broadcast on Wednesday.
Pryce, whose dry humour is not confined to his books, says he felt "pretty aggrieved" at the media coverage surrounding Hinterland's sale.
"All the papers were filled with this 'new' thing called Aberystwyth noir," he says, "and I was thinking, come on guys, I was crowned the king of Welsh noir 12 years ago by the Sunday Telegraph. Do your homework!"
Pryce, who was born in Shrewsbury and now lives in Oxfordshire, moved to Aberystwyth at the age of nine and attended Penglais Comprehensive school.
He began his first Aberystwyth book during a year off from his job as an advertising copywriter in Singapore and never went back.
It was written in the Far East and he says he could not have written it at home.
"Hemingway said you can't write about a place until you've left it and I think that's very true. You need that sort of distance.
"The parallel universe version of Aberystwyth which I write is not that similar to the one you encounter when you walk along the street anyway."
The books are not averse to sending up Welsh culture but Pryce says he has gained the right to write about Aberystwyth in the way he does by having lived there - and he says the locals do not seem to mind.
"If I'm having a laugh about prostitutes, for example, wearing Welsh national dress and stovepipe hats down by the harbour, I don't think people feel that's directed at them personally," he says.
"They enjoy the satire rather than take offence at it."
Quite what it is about Aberystwyth that makes it work as a setting, noir or otherwise, he says is hard to pin down.
'Strange quality'
"One thing you learn very quickly is that wherever you go everybody seems to have heard of it.
"I've known people in Borneo who have heard of Aberystwyth. It's like Timbuktu. It's a name everyone's heard of.
"There's just a strange quality about Aberystwyth which seems to lend it to this sort of treatment.
"Someone sent me an email once, saying they lived in a nearby village and there was a bus that left every morning to Aberystwyth but there wasn't one back.
"I've been all over the Third World and nowhere else in the world would you find that."
Despite having "some great ideas for more Aberystwyth books that will get done at some point", Pryce's next novel will see Louie Knight sidetracked.
His new hero will be fictional 1940s British railway detective Jack Wenlock, who investigates the disappearance of 50 nuns from the 11.23 Swindon High Level to Bristol Temple Meads express.
"My publisher wanted me to try something new," he says. "Though people who liked the Aberystwyth flavour will like the flavour of this, I hope."
Aberystwyth Noir: It Ain't Over Till the Bearded Lady Sings can be heard on BBC Radio 4 on Wednesday 15 May at 14:15 BST. It is a BBC Wales production, produced and directed by Kate McAll.