Tesco drops Machynlleth store planning application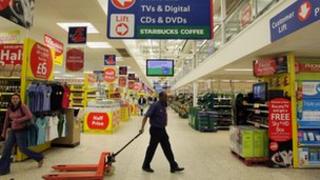 Tesco has withdrawn controversial plans for a supermarket in Powys after failing to agree on road changes.
The grocery chain planned a 15,000 sq ft (1,400 sq m) store in Machynlleth creating 75 full-time jobs.
Powys council said the application had been subject of a Welsh government "holding directive" since 2011.
It is the second time Tesco has withdrawn its plans for a Machynlleth store, which opponents claim would badly affect local traders.
The company pulled its original application in 2010 over road safety issues.
It resubmitted fresh proposals to Powys council a year later which prompted the Co-op to respond with plans to extend its existing store in the town.
The Tesco development also included a car park, alterations to the highway and a new access road, a bus shelter and five new houses.
But objectors complained the store could have jeopardised small independent shops.
A Tesco spokesperson said: "We have decided to withdraw our planning application for a new Tesco superstore in Machynlleth as we were unable to reach agreement on a highways solution.
"We are always looking for new sites to invest in throughout Wales and our stores are popular with our customers. We are proud to be strong supporters of the Welsh economy.
"We realise our customers will be disappointed with the news on Machynlleth but know they will continue to have excellent stores in Porthmadog and Newtown."
In 2008 there was a protest in Machynlleth by local people who carved "No Tesco" in pumpkins for a parade to mark Halloween and Samhain, a Celtic festival celebrating the end of the harvest, on 1 November.
Some residents of Machynlleth travel 18 miles (30km) to shop at a supermarket in Aberystwyth, rather than use smaller food stores in their home town.
Tesco has said its supermarket, which was earmarked for an old builders' merchants yard, would provide shoppers with more choice.