Rhoserchan drug rehabilitation unit in liquidation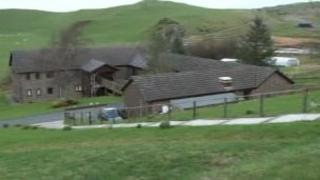 A drug and alcohol rehabilitation unit in Ceredigion has gone into voluntary liquidation after battling money problems and a lack of referrals.
Rhoserchan was a residential centre and opened new premises near Aberystwyth in 2007 after receiving £550,000 of European Objective 1 funding.
In 2011 the centre's manager criticised the lack of referrals to her unit.
The Welsh government said it regretted the closure but rejected any suggestion that it was in part to blame.
Plaid Cymru Ceredigion AM Elin Jones said she hoped a buyer would be found to continue Rhoserchan's work.
She said the centre, run by a charity, had struggled financially and it was helped a few years ago by Welsh government.
But it seemed to have failed to attract enough referrals, she added.
"I am saddened by the news that Rhoserchan has gone into voluntary liquidation," said Ms Jones.
"It has been an invaluable facility and has provided the support required by so many people at desperate points in their lives.
"I know that sustaining the service has been a struggle over recent years and I have worked with the management and trustees to seek solutions.
"The trustees have worked very hard to make Rhoserchan sustainable and it is sad to see its demise."
Rhoserchan had room to care for 22 people and treatment included a variety of practical activities such as growing vegetables and singing.
In 2011 Rhoserchan's manager Anette Millandt-Rumble was critical of the lack of referrals to her unit by councils and other agencies.
'Invested significant amounts'
She said some Welsh patients were being referred to centres in England and people were not being sent to rehab when they should be.
The Welsh government said at the time that people were treated in England when it best suited the individual.
In response to its demise, a Welsh government spokesperson said it regretted the closure, and denied that was in part to blame.
It was also "disappointed that Rhoserchan did not take up the repeated offers of support to arrange an open day for those in local authorities, health boards and other bodies who are responsible for commissioning services across Wales to promote the type of treatment offered" at the site.
"Welsh government continues to ring fence £1m of its funding to substance misuse area planning boards specifically for residential rehabilitation and inpatient detoxification, in addition to the funding available via local authority social care budgets," said the spokesperson.
"We have also invested significant amounts of capital funding in Welsh residential treatment facilities and both ministers and officials have written to substance misuse commissioners and providers to encourage maximising use of Welsh facilities in the first instance."
The spokesperson added there had recently been a review of referral and assessment procedures and the reasons why Welsh clients were being referred outside Wales.
The recommendations from the review will be published shortly.
No-one was available for comment at Rhoserchan.