Lakeside Restaurant, Llandrindod Wells: Hunt for new operator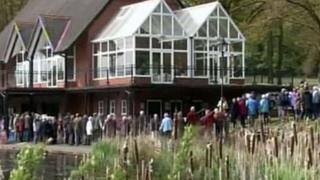 New operators are being sought to run a Powys restaurant following a demonstration last year over its future.
More than 100 people held a linked-hands protest around the Powys council-owned Lakeside Restaurant in Llandrindod Wells last May.
But the authority has said fears over its future are unfounded and it is committed to keeping it open.
It is now looking for people to run the building on a five-year business lease.
The restaurant is considered a vital tourist attraction by people in the town. It shut last year for refurbishment, but there are hopes it could reopen this summer.
The council said along with the running of the building, potential operators would also have the chance to manage the nearby putting and crazy golf course.
"Those interested in this business opportunity should submit their bids to the council by no later than 12pm on Tuesday, 30 April," said a council spokesman.
The council has previously tried to sell the public restaurant without success, and campaigners feared last year that when it closed for refurbishment it would not reopen.