Brecon: £8.4m scheme to refurbish museum and build library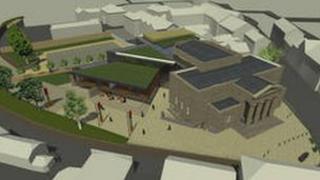 A major project to build a new library and extend and refurbish a museum in Brecon has been backed by Powys council.
The £8.4m "cultural and community hub" will be the catalyst for regeneration in the town, claim officials.
The plans include restoring and extending Brecknock museum and art gallery while the new library would be built nearby.
The council is to apply for a £2m Heritage Lottery Fund grant.
The authority is spending £1m of its own money on the scheme while other funding will come through an arrangement with developers.
It would see the developers refurbishing empty council-owned buildings in Brecon and when sold on, the council would take a share of the proceeds.
Plans to conserve and redevelop the museum and art gallery have been under consideration for the last decade.
The Grade-II star listed former court has needed repairs to its Victorian stonework and its roof.
A Powys council report said: "In recent years the proposal to co-locate Brecon library with the museum to form a cultural hub has formed a significant element within the asset rationalisation and regeneration plans for Brecon."
It said the hub had the potential to provide a "sustainable future" for the museum and library in Brecon.
The council had intended to sell its empty buildings in the town to help fund the scheme but decided against it following the economic downturn.
Officials also planned to demolish the existing town library and sell the land, putting the proceeds of the sale towards the project, but the historic monuments agency Cadw listed the library which prevented the move.
The council said the plans would boost tourism and provide a "significant contribution" to the regeneration of Brecon town centre.
Boutique
The scheme will see the creation of a new dedicated gallery spaces for exhibitions, the restoration of the Assize Court, its cells and court room for re-enactments, lectures and presentations.
There are also plans for community and education rooms, function rooms and a cafe and shop.
The hub has also been designed to include Powys council's archives and Brecon's regimental museum, but no decision has been made to relocate these facilities at the moment.
In July last year, Business Minister Edwina Hart identified Brecon as one of three local growth zone (LGZ) towns in Powys.
Powys council said its proposals supported LGZ recommendations of developing Brecon as a tourist centre, and its role as a boutique or niche shopping location.
The authority said the scheme had support locally and nationally in Wales.