April Jones: Family releases balloons on missing girl's sixth birthday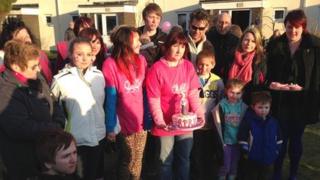 The family of April Jones, who has been missing for more than six months, have marked her sixth birthday by releasing hundreds of balloons near her home.
A massive police search has taken place for April since she disappeared from her estate in Machynlleth, Powys.
Her family invited the community to Bryn y Gog green, where she used to play, to mark her birthday on Thursday.
Mark Bridger, 47, is due to stand trial later this month for the abduction and murder of April, which he denies.
April's family also baked a birthday cake and decorated it with her name. Her parents, Coral and Paul, were pictured with it along with other members of their family at the balloon release.
Before the balloons were released, town and county councillor Michael Williams said the Jones family wanted people to join the birthday commemoration "as a show of solidarity".
"April was always full of life and happy, playing with her friends and cycling here around the estate," he said.
"The feeling is to celebrate the little girl's birthday. There's still solidarity, people are still together and absolutely behind the family."
Mr Williams said he regularly visited April's parents, Coral and Paul, and was full of admiration for them.
"It's still very, very difficult for them but they're a huge inspiration to us actually, the way they're coping and handling this hugely tragic event."
He said there continued to be huge support for them from the community and people further afield.
A seat made by inmates from Shrewsbury prison was recently placed at Bryn y Gog green.
Police search
April's disappearance on 1 October led to a massive police search operation in and around Machynlleth, and over terrain including mountains, gorges, streams and waterfalls.
An area of more than 60 sq km was searched and there were more than 300 specific search areas.
The search is expected to finish at the end of this month, police have said.
Officers said in March they would search "specific areas of land with a view to all search areas identified being completed by the end of April".
Mark Bridger, 47, denies abducting and murdering April as well as intending to pervert the course of justice.
He is due to stand trial at Mold Crown Court on 29 April.