Horsemeat scandal: Farmbox conditional approval to reopen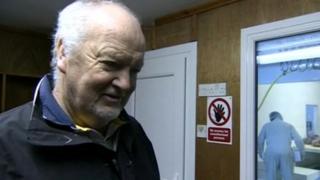 A mid Wales meat plant closed during the horsemeat investigations has been given conditional approval to reopen.
Work at Farmbox Meats Ltd, of Llandre, Aberystwyth, was suspended on 12 February by the Food Standards Agency (FSA) as part of an investigation into alleged mislabelling of meat products.
The FSA said on Monday it was lifting the suspension, allowing the plant to operate under conditional approval.
The agency said a decision on full approval would be made on 5 April.
The conditional approval to resume operations will expire that day.
The FSA said it had required Farmbox to provide guarantees before allowing it to operate again.
It said it had also told the business that approval may be withdrawn if there was "sufficient evidence of non-compliance with all requirements placed on food business operators".
Following the suspension on 12 February, Farmbox owner Dafydd Raw-Rees insisted there had been no cross-contamination at the cutting plant and said he felt he had been "picked on".
He declined to comment following the FSA's latest announcement.