Powys dairy plan puts village future at stake, inquiry told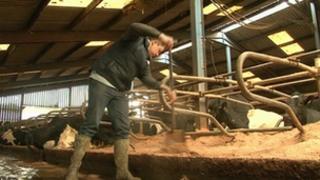 Villagers have told a public inquiry of their concerns at plans for a "mega dairy" in Powys housing 1,000 cattle.
Fraser Jones wants a major expansion of his farm in Leighton, near Welshpool, but was told the smell from the current 300 cows was unbearable at times.
A government inspector is holding the hearing following Powys council's decision to refuse planning for the expansion near a primary school.
Mr Jones has said he has gone to great lengths to address all the concerns.
Villagers say the dairy will be too close to their homes and the school, and objections have been raised about noise, the smell, flies, pollution, increased traffic, the size of the development and its visual impact.
Roger Clegg, who has lived in the village for 20 years, said he feared the smell would be far worse if the super dairy was allowed.
He also told the hearing that residents were concerned that flies would become a bigger nuisance.
"The future of our village is at stake," he claimed.
Niall Blackie, representing Mr Jones, suggested that investment in the plans would introduce modern farming methods which would help to eliminate problems with odour and flies.
"Fraser Jones does not consider the odours from the farm to be unbearable," he said, prompting laughter from some Leighton residents sitting in the public gallery at Welshpool.
Castle concern
The inspector is due to visit relevant sites on Monday before the hearing concludes by next Friday.
A local action group has been formed to oppose the dairy development, despite Mr Jones's assurances.
The plans have also attracted criticism from the National Trust which is concerned about the visual impact on nearby Powis Castle.
In November 2011, Powys council's planning committee said it was minded to approve the dairy application subject to a report about "outstanding issues". It had been recommended for refusal.
But the matter was discussed again last October after changes in the council's constitution and committee membership, and it was rejected.
The Welsh government called in the application in January 2012 prompting the need for the public hearing.