Brecon Jazz Festival to be headlined by Jools Holland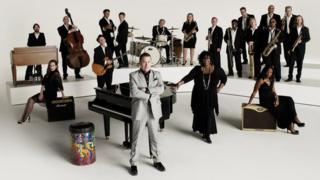 Jools Holland and Acker Bilk will be among the headliners at the Brecon Jazz Festival this year as the organisers expand the number of concerts on offer.
The number of shows will increase by a third to 43, while the town's Castle Hotel is added to the list of venues.
Among the other acts on the bill this August will be Courtney Pine, Django Bates and Grammy Award winning R&B star Mavis Staples.
The festival will also feature Welsh jazz talent and street entertainment.
The Cardiff-based Orchard media group is running the festival for a second year, having taken over from The Hay Festival organisation.
Orchard director Pablo Janczur said: "We loved the experience in our first year in 2012, made a lot of friends in Brecon and were really pleased with the feedback we received in our first year of operation.
"Now we've upped the number of concerts by a third, maintained the quality of the line-up with something for most jazz tastes, and are looking to build on the success of last year.
"Brecon's a great place to be when the town is buzzing in the midst of the festival, and we want to recreate that experience this summer, and give local businesses, residents and visitors something to really look forward to."
Fringe events
The festival concerts attracted 8,000 visitors last year, and many more visited the town to listen to the street entertainers who return this year.
Orchard said it would once again work closely with the Brecon Fringe to offer a complementary programme of music in bars and smaller venues across the town.
"We take very seriously our responsibility to sustain Brecon's standing in the jazz world as we look forward to next year's 30th anniversary and the continued success of one of the UK's finest jazz events," added Mr Janczur.
First staged in 1984, the annual festival has attracted leading international jazz musicians and up-and-coming artists from across the UK.
Over the years it has attracted performers such as Sonny Rollins, Allen Toussaint, Van Morrison, George Melly, Humphrey Lyttelton and Amy Winehouse.
The team behind the neighbouring Hay literary festival stepped in to rescue the music event after the previous promoter went bust after the 2008 festival, staging it from 2009 to 2011.
This year's event will run between 9 and 11 August.