Shimizu Industry UK: Welshpool factory under review after buy out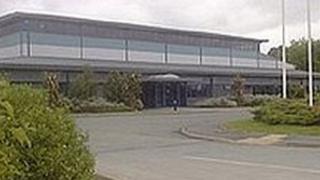 The future of a Powys car parts firm which employs nearly 150 people is under review after it was bought out by a rival.
Denso Manufacturing has taken over Shimizu Industry UK (SI-UK) which makes parts for Jaguar, Honda, Toyota, Land Rover and Caterpillar in Welshpool.
Denso said it was reviewing the operation in Welshpool but there has been no decision made on its future.
There are 143 people working at the factory.
"Once the formalities of this acquisition have taken place, we will study the possible options and timelines for reorganisation of our manufacturing operations in the UK, which will include consideration of the long-term operations at the Welshpool site," said Sjoerd Dijkstra of Denso.
"No decisions have been made about the future of the Welshpool operations at this time."
Denso operates in more than 30 countries and employs around 120,000 people.
Denso Corporation is a majority shareholder of Shimizu Industry which produces plastic components and metal moulds for car air-conditioning systems.
Its products are mainly supplied to Denso companies worldwide.