UKIP founder member David Rowlands dies, aged 78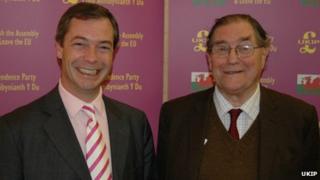 Tributes have been paid to a founder member of the UK Independence Party (UKIP) who has died, aged 78.
David Rowlands was UKIP's first candidate in Wales, contesting the mid and west Wales seat at the 1994 European elections.
Mr Rowlands, from Llanerfyl, near Welshpool, Powys, was also chairman of the now defunct Montgomeryshire District Council (MDC).
UKIP leader Nigel Farage said Mr Rowlands would be "greatly missed".
Born in 1934, Mr Rowlands was educated at Shrewsbury school and Cambridge University.
His family owned local newspaper the Montgomeryshire County Times until 1945, but Mr Rowlands entered the world of estate management after university, and went onto manage the Lake Vyrnwy Estate in north Powys.
'Deep thinking'
In later life he was elected a councillor and became MDC chairman in 1978, a position he held until 1981.
Mr Rowlands went on to stand at Welsh assembly, European and general elections.
Paying tribute, Mr Farage said: "David was a long time supporter of UKIP.
"I have very fond memories of working with him over the decades.
"David was one of the most genuine and gentle people I have met.
"He was incredibly intelligent, articulate and deep thinking, yet so incredibly humble and modest.
"As a founder member of the party, he was key to the growth of UKIP in Wales from the early days - in fact David was our first candidate in Wales. He will be greatly missed by all who knew him in the party."
UKIP MEP for Wales John Bufton said Mr Rowlands was one of the "nicest, kindest and most genuine people" he had ever met.
"One of my great memories of David was when I was elected an MEP in 2009," said Mr Bufton.
"We were at the count in Pembrokeshire and no-one expected us to take the seat and when we did it was as though all his hard work over the years had come to fruition. He was delighted."
'Indestructible'
Glyn Davies, Conservative MP for Montgomeryshire, said he knew Mr Rowlands for 37 years, having sat on MDC with him in the 1970s and 80s.
Mr Rowlands stood for UKIP against Mr Davies at the 2010 general election, when the Tory candidate unseated Lib Dem MP Lembit Opik.
"Despite ill-health DWL Rowlands - as he was often referred to - seemed to me indestructible," said Mr Davies.
"It is sad and seems strange that he has died.
"He will be remembered with affection by the many people who befriended and worked with him throughout his incredibly active life."