Baby in audience stops Aberystwyth dance music gig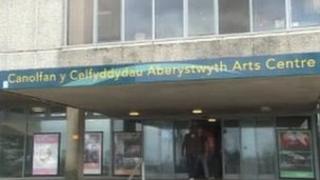 Police stopped a dance music event temporarily in Aberystwyth when they were told a baby was in the audience.
The Black House gig was held at Aberystwyth arts centre at the town's university on Saturday.
Aberystwyth University said the music was stopped so the mother and baby could be found, but it is understood they had already left.
Dyfed-Powys Police said that it would be monitoring and evaluating the incident.
The arts centre's website said Saturday's Black House gig, which started in 2007, featured five themed stages "celebrating dance music from across the spectrum".
The website added the arts centre was transformed into an "indoor festival playground for one night only", and Black House presented "world class headline artists" with the areas best DJs and performers.
"Public security for the evening was organised by Aberystwyth Arts Centre with the full support of the police, who were present through the event, which was externally arranged and produced," said a university spokesman.
"ID checks were made on the door for all members of the public by the door security teams.
"During the evening a member of the public approached the security team concerned that there was a woman with a baby in one of the performance areas, at which point security staff and the police immediately made inquiries and the music was stopped so that she could be found.
"We understand the woman had left when the music stopped."
It is unclear how old the baby is.
A Dyfed-Powys Police spokesperson said: "Following close liaison with social services, Dyfed-Powys Police has been made aware of an incident involving child protection issues and will be monitoring and evaluating this incident."
Ceredigion council said it was "unable to comment on individual cases of this nature".