Ceredigion: Late night pubs levy could pay for policing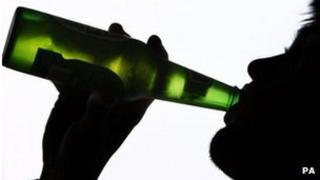 Pubs and clubs in Ceredigion could be charged a late night levy to pay for the cost of policing the streets.
The Home Office is giving councils the option of charging them for selling alcohol after midnight, most of which would pay for policing.
The council's licensing committee is to discuss a report on its viability before going any further.
The report says it could lead to the number of pubs deciding to open late being greatly reduced.
If it was brought in, the levy would have to be applied across the county, and not just in certain areas.
Each pub or club opening after midnight would pay between £299 to as much as £4,440, depending on size. Those clubs falling under Band B business rates would be charged £768 a year.
But bars and clubs would be able to opt out of the levy and late night opening and return to licences with regular hours.
The Castle Hotel in Aberystwyth is open until 3am GMT on Fridays and Saturdays and until 2am GMT between Sunday and Thursday.
The hotel's general manager Richard Wood said: "We've just had to put the prices up to help cover our costs. The last thing we need is additional expenditure at a time of economic hardship.
"The reason we have a late licence is because we're slightly out of the town centre and pick up a bit of extra trade as people go home, but we don't need any extra charges to hamper our business."
The new powers come under the Police Reform and Social Responsibility Act 2011 and are aimed at cutting late night crime and disorder.
Police would get a 70% cut of the revenue.
'Draconian measure'
The report to councillors said setting up a levy would be expensive, with a wide consultation needed if they choose to pursue it further.
It also warns the council "is likely to face challenges from the trade, but it could represent an opportunity for the authority to rebalance the numbers of late night venues".
It says the levy will "undoubtedly be seen as a draconian measure" by the licensees, for whom it will represent a major additional expense.
A council spokeswoman said: "The matter is merely being brought to the attention of the licensing committee in the form of an update prior to officers consulting with the Crime Commissioner and the chief of police for the area.
"Ultimately the matter will be a decision for full council."