Powys schools: Carno and Llandinam primaries set to close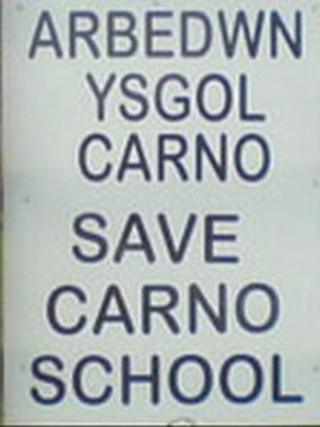 Plans to close two primary schools and open two new 'super schools' have been backed by Powys council's ruling cabinet.
Informal consultation now begins over Carno and Llandinam primary schools which could shut next year.
Plans to create all through 'super schools' in Machynlleth and Llanidloes for 4 to 18 year olds were also backed.
The proposals are part of a modernisation project to cut costs and tackle surplus places.
It is the latest in a series of decisions by Powys council as it reviews its provision of primary and secondary education.
Last year it closed 10 primary schools and built four new replacements in the Maesydderwen catchment area in and around Ystradgynlais.
The review has now switched to the Llanidloes and Machynlleth catchment areas, with the following decisions taken by the cabinet on Tuesday:
Closure of Llandinam Primary School and moving its 38 pupils to Caersws Primary School;
Closure of Ysgol Carno and moving its 44 pupils to Llanbrynmair Primary School;
The formal federation of Ysgol Llanbrynmair and Ysgol Glantwymyn, near Machynlleth;
The establishment of an all-through school in Machynlleth by federating Ysgol Bro Ddyfi and Machynlleth Primary School;
The creation of an all-through school in Llanidloes, by federating Llanidloes High School and Llanidloes Primary School.
The council has also approved proposals to use funding from the Welsh government's 21st Century Schools scheme to remodel Ysgol Glantwymyn, to invest in an all-through school campus in Llanidloes, and upgrade the town's primary school building.
It is also looking at longer term investment in a new campus in Machynlleth for its planned all-through school there.
The cabinet will consider the outcome of the informal consultation in April, and schools in Llandinam and Carno could close in August 2014.
Outdated figures
Welsh-medium Ysgol Carno has been under threat since 2007, and local people have objected to the closure plans.
Carno and Llandinam schools are said to have surplus spaces that exceed the authority's capacity target.
But Save Ysgol Carno Action Group said Powys council was basing its proposals on outdated figures.
It said last year the school had 37 pupils, but this year it had 44 children on its books.
A report by Myfanwy Alexander, the council's cabinet member for learning and leisure, said both Carno and Llandinam primary schools were in question due to "a number of criteria".
"They do not meet the authority's preferred model for a primary school, which is a school with single form entry or a school with no more than two age groups per class," she said.
'Strongly object'
"The condition of the buildings is a cause of concern. In particular, Ysgol Carno is in a demountable building which is nearing the end of its usability.
"Both schools have a significant number of surplus places. Costs per pupil are the highest within the catchment area, far exceeding the average cost per pupil across Powys.
"Less than 50% of pupils in Llandinam's closest zone actually choose to attend that school."
The council recommends that children are transferred from Carno to Llanbrynmair primary school, which is about seven miles (11km) away.
Meanwhile, it suggests that 38 pupils at Llandinam should switch to Caersws primary, which is just over two miles away (4km).
But Save Ysgol Carno Action Group disputed Ms Alexander's figures.
"We strongly object to any plans to close the village school because it's purely about cost," said Rhiannon Snape of the action group.
"The council is basing its assessment on 2012 figures, not 2013 figures. Last year we had 37 pupils and this year we have 44.
"When the school was last under threat it had 21 pupils and the community has worked hard to build up the school's numbers."