Gordon Dyche trial: Sentence upheld for Llyn Clywedog crash that killed family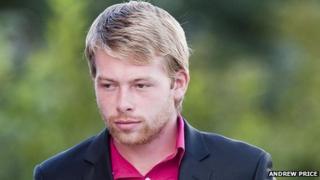 A motorist jailed for causing the deaths of a family by careless driving at a lake in Powys has been told his four-year sentence was fair.
Gordon Dyche, 25, of Llanbrynmair, clipped Denise Griffith's car while trying to overtake, sending it careering into Llyn Clywedog, near Llanidloes.
Mrs Griffith, 56, lost her husband, mother and two foster sons.
The Court of Appeal rejected Dyche's claim he was sentenced too harshly.
Emyr Griffith, 66, Phyllis Hooper, 84, and teenagers Peter Briscome and Liam Govier, both 14, from Pontypridd, died when their Peugeot people carrier plunged into the reservoir on 20 April last year.
Dyche was on his way to work when he collided with the family's car.
Only Mrs Griffiths and the family dog escaped.
On Thursday, Dyche asked Lady Justice Rafferty, Mr Justice Globe and Mr Justice Leggatt, sitting at London's Criminal Appeal Court, to reduce his jail term.
The court heard that Dyche, a married father, was travelling to work in a Ford Mondeo and was hurrying because he was late, when the incident happened.
He came up behind a VW Passat car, with the people carrier ahead of it. They were travelling at about 40mph and he followed them for between a mile and a mile-and-a-half.
As the people carrier slowed and indicated to turn right into a layby, Dyche began to overtake and struck the back of the Peugeot, causing it to plunge down a cliff and into four and a half metres of water at the beauty spot.
Lawyers for Dyche asked for his sentence to be cut, arguing that he had been guilty only of a momentary lapse of concentration, not a course of bad driving.
But Mr Justice Leggatt, dismissing the appeal, said: "We cannot accepted that the judge was wrong in his assessment of this man's culpability.
"An ordinary, prudent driver would not have regarded the fact that the two cars in front were braking as a chance to overtake as he did. It was particularly bad to attempt a double overtaking manoeuvre when he couldn't see the indicator lights of the car in front.
"By far the biggest aggravating factor in this case were the four deaths. The judge, having heard the evidence in this case, imposed an appropriate sentence."