A44 near Aberystwyth: Lorry recovered after crash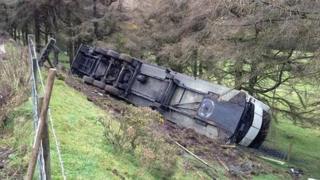 Part of the A44 near Aberystwyth has closed after an articulated lorry left the road and ended up on its side in a field.
The incident happened on Wednesday at 19:00 GMT, east of Dyffryn Castell. The driver was uninjured.
A crane was used to recover the lorry on Thursday afternoon and the road is expected to reopen later.
Ceredigion council said diversions were in place at Lovesgrove, Aberystwyth, and at Dyffryn Castell.