Bomb threat robberies: £2,000 reward in Lloyd Kieran Jones hunt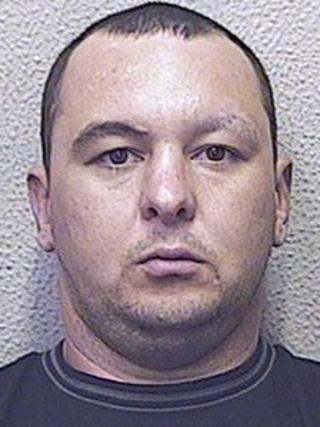 A £2,000 reward is on offer to trace a man wanted in connection with a string of robberies involving bomb threats.
Lloyd Kieran Jones, formerly of Glynneath, is wanted after a travel agent robbery in Powys on Thursday.
Last month cash was stolen from a travel agent in Whitchurch, Cardiff, by a man claiming to have a bomb.
That robbery technique has also been used in the Gwent, Dyfed-Powys, West Mercia, Avon and Somerset, and Gloucestershire police force areas.
The suspect is also accused of breaching his licence after leaving prison, and Dyfed-Powys Police said he was also accused of a recent robbery in Haverfordwest.
Thousands of pounds in British and foreign currency have been stolen and in every case the man has passed a note to staff claiming to have a bomb.
The reward has been offered through Crimestoppers for information that leads to the arrest and conviction of the person responsible.
A Crimestoppers spokesperson said: "This individual is alleged to have committed a number of serious offences and has obtained a lot of money through doing so, while also frightening the staff of the premises targeted.
"I am urging anyone with information on his whereabouts to contact Crimestoppers anonymously - we don't want to know who you are, only what you know."
No one was injured in the latest robbery in Newtown, Powys, on Thursday, said police, and company procedures meant there was no significant financial loss.