Montgomeryshire: Monty Broadband speed check campaign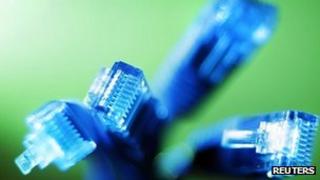 People in Montgomeryshire, Powys, are being encouraged to test their broadband speeds as part of a campaign to get faster internet access.
The Monty Broadband campaign has been set up to help and highlight areas that need better broadband.
The project is being led by local AM Russell George, who called broadband " a utility just like electricity... a service that we all need".
The data will be used to see where broadband services need to be improved.
It has the backing of eXwavia, a Welshpool-based wireless Internet Service Provider (ISP), the Federation of Small Businesses, Mid Wales Manufacturing Group, Farmers Union of Wales, NFU Cymru and Age Cymru.
Annette Burgess, of eXwavia, said: "We're supporting the Monty Broadband campaign because nobody really knows how bad it is in some communities.
£425m deal
"By undertaking the speed test this weekend we'll have a much clearer picture, allowing our AM to identify where pressure needs to be placed to improve broadband provision."
People can go online to test their broadband speed via a dedicated website.
Last month, the Welsh government signed a deal with BT to upgrade the broadband network for 96% of properties by 2015.
It hailed the £425m deal as the biggest of its kind in the UK and a boost for the economy.
The announcement came as a report by the regulator Ofcom said Wales had the lowest level of super fast broadband in the UK, with 34%.