Brecon Jazz promoter says concerts may double next year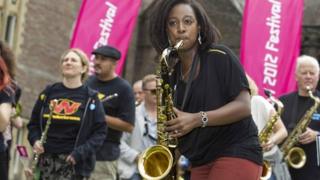 The new promoters of the Brecon Jazz Festival say they are pleased with the response to their first event.
Sell-out concerts from stars including Dionne Warwick and Stan Tracey attracted around 30,000 people to the town, said Cardiff-based Orchard.
Director Pablo Janczur said visitors, traders and residents had praised them for "recapturing the spirit of Brecon Jazz in its heyday".
Promoter Orchard said next year's event could offer twice as many concerts.
It won a tender from the Arts Council of Wales to run the festival after its previous promoters - the Hay Festival organisation - pulled out.
'Warm atmosphere'
Roy Ayers and Ginger Baker were among the attractions of a smaller-scale event offering about 25 headline concerts arranged at short notice after Orchard was appointed in May.
Organisers teamed up with the London 2012 Festival of arts to stage Sax Machine, a saxophone "flashmob" style event on Sunday to mark the end of the Olympic Games.
"We are really pleased with our first year in charge of Brecon Jazz," said Mr Janczur.
"The music has been fantastic, there's been such a warm atmosphere in the town and the feedback from local people and tradesmen, and the many thousands of visitors, has been highly positive, with many claiming that the event went some way to recapturing the spirit of Brecon Jazz in its heyday."
Mr Janczur also praised the pubs, clubs and other venues involved in staging gigs as part of the Brecon Fringe.
He added: "We now have a decent run-up to Brecon Jazz 2013, so we'll sit down soon with local stakeholders, who are critical to the success of the event, and start planning for another great year."
The company confirmed that it would be aiming to offer additional venues and expand the number of concerts on offer to possibly twice as many next year.