Flood victims in Ceredigion could pay for defences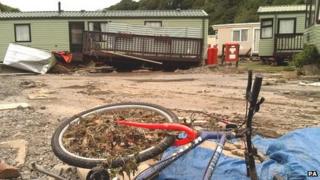 Communities in Ceredigion where homes were flooded in heavy rain in June might be asked to contribute towards flood defences, a council report says.
The rainfall left northern parts of the county underwater, causing damage to properties and holiday homes and affecting more than 1,000 people.
The Ceredigion council report blamed the problems on prolonged and heavy rainfall on already saturated ground.
An appeal fund for the flood victims currently stands at £88,000.
Aberystwyth and the nearby villages of Talybont, Dol-y-Bont, Capel Bangor, Llanbadarn Fawr and Llandre were among the areas affected by the heavy rain which fell between 8 and 9 June.
In the days after, some families driven from their homes by the water were warned they would have to leave for up to six months, while businesses, especially those in the tourism industry, were told they would be offered government support.
Permanent solutions
Ceredigion council's flood investigation report was written in the days following the flooding and goes before the authority's cabinet on Tuesday.
The report said: "Whilst there has been historical localised, isolated flooding within some of the affected areas, the scale and extent of flooding is unprecedented."
It said 126 properties and a 200 holiday park caravans in the area were damaged.
But the report said permanent solutions to flooding were costly.
"In current circumstances such projects cannot be funded solely by risk management authorities (which include councils and the Environment Agency)," it said.
The report added: "If the situation arises where limited funding becomes available, there is also the opportunity for the local community, as the beneficiaries, to raise the remaining sum, allowing a flood alleviation scheme to go forward.
"It was considered that risk management authorities may be able to group their funding for surface water alleviation projects.
Emergency services
"This is something that will be discussed, however the sites would have to be considered a high priority for each of the flood risk management authorities for this to be a feasible option."
The council said in the 24 hours before the flood more than 190mm (19cms)of water fell on the Nant-y-Moch reservoir in Ponterwyd, near Aberystwyth, which resulted in some of it being released.
Similar totals were recorded in the catchments of the Ystwyth, Leri, Clarach and Seilo rivers.
Earlier this month, Prince Charles and the Duchess of Cornwall met flood victims and local emergency services in Aberystwyth.
The prince has made a "generous" donation to the appeal fund for the flood victims.