RSPB warning to dog owners after Lake Vyrnwy sheep attacks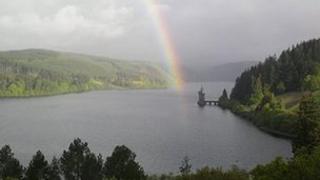 Dog owners are being reminded to keep their pets on a lead when visiting RSPB reserves after a spate of attacks on sheep.
Dogs are being blamed for killing and injuring ewes and lambs on the charity's land at Lake Vyrnwy in Powys.
The RSPB, RSPCA Cymru and the National Farmers' Union (NFU) are urging people to think twice before letting their animals run free.
The RSPB added that the majority of dog owners were responsible.
Mike Walker of the RSPB's reserve at Lake Vyrnwy said: "We have had several incidents already this year where livestock, namely ewes and lambs, have been found dead or injured, and believe this was as a result of unleashed dogs on the reserve.
"It is RSPB policy that all dogs must be kept on a lead on all our nature reserves."
Mr Walker said the majority of dog owners were responsible and obeyed the rules, but some people did not comply.
John Avizienius, of the RSPCA's farm animals department, said: "Animals may abort or abandon their young if they become unsettled by any disturbance caused by dogs.
"Serious injuries can be inflicted on the animals from dogs that are out of control."
NFU Cymru president Ed Bailey urged people to enjoy the countryside responsibly this summer.