Wyeside Arts Centre's Market Theatre in Builth Wells to reopen after facelift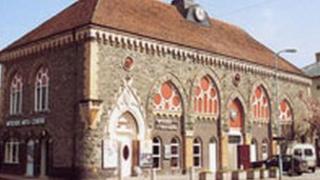 A Powys arts centre which has been threatened with closure in recent years is reopening after a £220,000 facelift.
Wyeside Arts Centre's Market Theatre in Builth Wells, now has new seating, curtains and lighting.
Wyeside, which is also a music venue, cinema and art gallery, had been struggling due to rising running costs and the loss of funding.
Much of the money for the makeover came from a fund for communities affected by quarrying.
Barbara Stow, chair of the board of trustees at the centre, said a weekend of concerts would celebrate the reopening, while a reception on Wednesday to thank those who helped with funding.
"Our new theatre is a tribute to the generosity and hard work of many people," she said.
"Everyone who has worked on the project has pulled out all the stops to make it a success."
The Aggregate Levy Fund for Wales, which is administered by the Welsh government, gave £140,000 towards the project.
Quarries such as Hanson Aggregates' Builth Wells quarry and Bardon Aggregates' Cribarth quarry pay a £2 levy for every tonne of aggregate which leaves the quarry and a proportion of that money is used to support the Aggregate Levy Fund.
Other funding for the refurbishment has come from the Foyle Foundation, Garfield Weston Foundation, Powys council and Friends of Wyeside.
The Market Hall, where the arts centre is based, was built in 1877, and has about 40,000 visitors a year.
Wyeside's future has been under threat in recent years due to rising running costs.
Then it lost £67,000 in funding in the Arts Council of Wales' investment review last year.