Powys substation and pylons decision expected in May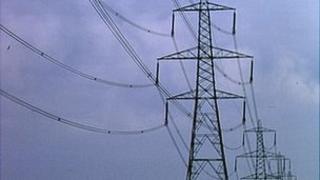 A decision about where to build a controversial 19-acre (7.6ha) electricity substation in Powys is to be made in May.
The National Grid was expected to reveal the location this month, but its officials say they need more time.
Two sites at Cefn Coch, near Llanfair Caereinion, and Abermule, near Newtown, have been suggested for the substation.
Pylons or underground cables are also planned to carry electricity to the transmission network in Shropshire.
The National Grid announced it proposals a year ago.
It has argued that the electricity infrastructure needs upgrading in mid Wales to cope with planned new, more powerful wind farms.
But the proposals have led to several protests and public meetings in Powys and Shropshire, while opposition to planned new wind farms in mid Wales has grown.
The National Grid's project manager Jeremy Lee said: "The choices we are making now will have an impact for many years to come and so it is essential that we take the time to get it right.
"We fully understand people's concerns about the proposals and recognise that residents are keen to know which route corridor and substation site will be chosen."
The National Grid said that in response to feedback from the public, additional work looking at the effects of construction, tourism, flooding and transport was being carried out and the information gathered would be considered in the choices made.
Earlier this week, Powys council rejected plans for 11 wind turbines on a site near Newtown.