Crunch Christmas: Aberystwyth project 'could save' town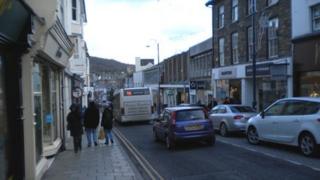 For years, Christmas shoppers have deserted Aberystwyth in their droves for larger towns and cities with a better range of high street stores.
But there is optimism a planned multi-million pound development could help rejuvenate the "struggling" town centre.
Aberystwyth Chamber of Commerce chair Chris Mackenzie-Grieve said plans for a Tesco and other new shops were "fundamental" for the town's future.
But there are strong objections to the proposals.
Some are questioning if Tesco is right for the development in Mill Street, while others claim the town needs a high street giant such as Marks and Spencer or Debenhams.
And then there are the pensioners.
More than 100 have held silent protests in recent weeks outside their day centre which is under threat from the supermarket scheme.
The project could also see the demolition of 12 terraced properties nearby.
But Mr Mackenzie-Grieve thinks this is a price worth paying.
When Ceredigion council announced more details in October it said the scheme would generate more than 200 full-time jobs, and boost town centre trade by between £1.6 and £3.5m a year.
There are also plans for a multi-storey car park.
"It's well-known at Christmas that a lot of people go to Carmarthen, Swansea or Cardiff to shop," Mr Mackenzie-Grieve said.
"We have to draw more people into the town and persuade them that Aberystwyth has everything they need.
"That's why the Mill Street development is fundamental and key to rejuvenating the town."
The recession, out-of-town shopping and the internet have all had an impact on the high street in Aberystwyth, along with the well-publicised parking problems.
Closed shops
For more than six months the town has been without traffic wardens and they are not expected to return until next June.
Mr Mackenzie-Grieve said this could deter Christmas shoppers from venturing into town.
A professor of economics at Aberystwyth University claims the town needs a high street big hitter, such as Marks and Spencer, to breath new life into it.
Prof Ken Richards said the town centre was struggling.
"There are closed shops all over the place because of the high business rates and rents shopkeepers have to pay," he said.
"What would boost Aberystwyth town centre is a well-known high street store, free parking all year round and perhaps even pedestrianisation which has boosted business in other towns and cities.
"One bit of hope for the town centre is the growing student number. Pubs, food outlets and some high street stores are benefiting from this."
Mr Mackenzie-Grieve denied that a lot of shops had closed, but agreed high rents and business rates were an issue.
Estate agent Aled Ellis said there was very little in Aberystwyth town centre to attract shoppers.
"The parking issues have had a major impact, but apart from that there's not a great deal to entice people into the town centre," he said.
"If you take away the banks, the estate agents, the cafes and the charity shops what do you have left?
"The demand for commercial property is very low. I have two prime spots in the town centre and I've had no inquiries and they've been on the market since the summer.
"We need a magnet in the town centre, a Marks and Spencer or a John Lewis, that would entice people to Aberystwyth. We also need a multi-storey car park."