Ysgol Maesydre head suspended after poor Estyn report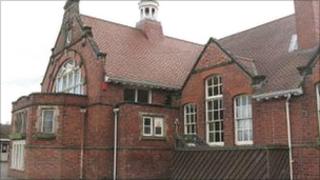 A head teacher has been suspended for the second time in a year after a primary school was placed in special measures.
Ysgol Maesydre in Welshpool, Powys, received a poor Estyn report in May, and a decision to suspend head Suzanne Foster was made nearly a fortnight ago.
Mrs Foster was suspended on 31 January in relation to a separate issue, but was reinstated at the end of February.
The school has 191 pupils, who are taught in Welsh and English.
An inspection report in May revealed unsatisfactory performance at Ysgol Maesydre, and education body Estyn has been monitoring the school on a termly basis.
"Suspension is a neutral act and is not a disciplinary action against the head teacher," said a Powys council spokesman.
"The action allows an investigation to be carried out into concerns that have been raised."
The council cabinet member for schools Stephen Hayes said the priority was to restore confidence and ensure that the school has an "efficient and effective education service".
"It is essential that a speedy and significant response is made to the Estyn inspection to drive up educational provision in the school for all learners and to ensure the school is removed from the category of special measures as soon as possible," he said.
"Ian Roberts, senior education officer, will take responsibility for leadership and management at the school with immediate effect until further notice."
Although the inspection report highlighted some good features, a significant number were found to be only adequate or unsatisfactory.
Inspectors said the special measures were required in relation because of "poor standards overall".
The National of Association of Head Teachers (NAHT) has been asked to comment about Mrs Foster's suspension.
Powys council said in February that Mrs Foster's first suspension was lifted after an investigation by its officials and police.
The nature of the allegations were not made public.