Offa's Dyke tourism scheme aims for economic boost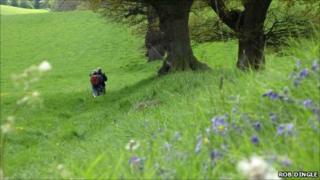 A tourism project to boost the local economy for communities along the Offa's Dyke path is being launched.
The dyke, which once divided Wales and England, has brought together over 10 groups on both sides of the border.
The aim of the Walking with Offa scheme is to promote the path as a tourism destination, encouraging repeat visits and increasing how much people spend.
The 177-mile (285km) path, which celebrated its 40th anniversary in July, attracts thousands of walkers.
After years of planning and a successful bid for funding, Walking with Offa will be launched at the Offa's Dyke Centre in Knighton, Powys, on Tuesday.
It has identified sustainable tourism and the creation of a bus service as among the top priorities, along with improving the fortunes for areas surrounding the route which officials call "Offa's Country".
Among other aims are to develop and promote circular walks in Offa's Country, improve and promote long distance paths which link to Offa's Dyke, and promote local shops, pubs and other local businesses.
The scheme is a partnership between several groups and local authorities from both sides of the border, as well as the Welsh government.
'Stunning landscapes'
A spokesperson for Walking with Offa said the aim was to develop and promote tourism, building on the "high quality natural and cultural assets" of the countryside around Offa's Dyke.
"Walking with Offa will improve access for visitors, help them gain more enjoyment and understanding from their visit and also help local businesses such as accommodation providers, shops, pubs and restaurants to thrive," said the spokesperson.
The path stretches along the England-Wales border from Sedbury Cliffs near Chepstow, on the banks of the Severn estuary, to the coastal town of Prestatyn on the Irish Sea.
It passes through eight different counties and crosses the border between England and Wales 27 times.
About 3,000 walkers a year complete the Offa's Dyke trail through what officials call "stunning" landscapes.