Mallwyd farmer Tegwyn Jones turns to river for power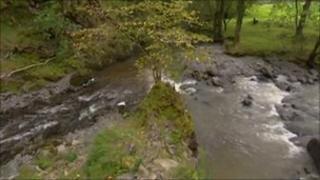 A mid Wales farmer is following in his grandfather's footsteps and generating electricity from a nearby river.
Tegwyn Jones has created a hydro power station at Mallwyd, Meirionnydd, to bring in income and enable his two sons to work the farm.
His grandfather used hydro power in the 1930s, with one serving nearby Dinas Mawddwy village which ran for 30 years.
Mr Jones says red tape is now affecting plans to diversify and has won support from a senior politician.
Lord Dafydd Elis Thomas, chair of the Welsh Government environment and sustainability committee, heard of Mr Jones' problems at first hand while on a tour of his electricity generation plant which harnesses power from a nearby river.
In 2001, he built a 93kW hydro electric station which generates enough electricity for about 70 homes.
The family farm at Talglannau has now almost completed another 100kW scheme which will generate electricity for 90 homes and they hope to set up another.
But Mr Jones said he had to navigate through many regulations from a number of public organisations, including Welsh Government departments, national park officials and highways officers, among others.
"There are so many agencies and they very often want different things," he said.
Lord Elis Thomas, the Plaid Cymru AM for Dwyfor Meirionnydd, said: "We have to tackle those issues and the committee which I chair is now looking at energy and planning and we will certainly look at ways in which renewable energy projects will be made easier."
He said the issue is about reconciling nature and the environment with development.
"Difficulties have been put in the way of these kinds of developments with licenses and permissions," he said.
Farmers Union of Wales president Emyr Jones said: "I hope that more farmers will be able to put sites like this on their farms to create electricity for the farm and the house."