Some Gurkhas in Brecon to lose jobs in defence cuts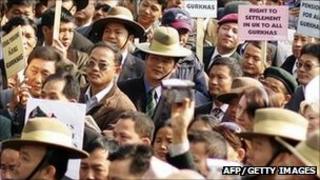 Gurkhas based in Wales are to lose their jobs under defence cuts, it has been confirmed.
Up to 130 of The Gurkha Company (Mandalay) have been based in Brecon, Powys, since 1974.
Ministers have announced that a total of 150 Gurkhas will be made redundant, but the Army will not say how many in Wales will be affected.
Some 930 RAF and 920 Army members were on Thursday being told they were being made redundant, 750 compulsorily.
The job losses are part of 22,000 post closures by 2015.
A spokesman for the Army in Wales said: "Some Gurkhas will be affected, but specific numbers are not being released due to data protection issues.
"However, those affected will have the right of appeal and will have the option to switch regiments."
The Brecon Gurkhas are based at the Infantry Battle School in Brecon and also use the Sennybridge training area nearby, the UK's fourth largest military training area.
The Gurkha Company (Mandalay) were made honorary citizens of Brecon in 1985.
Brecon mayor Paul Ashton said it would be a "very sad day" if some of the Gurkhas had to leave the town.
"The Gurkhas and their families are held in very high regard by the community in Brecon," he said.
"There is a very close relationship between the Gurkhas and the town.
"There are former Gurkha soldiers living in Brecon and Nepalese businesses.
"I'm a governor at two schools in Brecon and a third of the children at both schools are from Gurkha families."
Hazards and dangers
Professor Alan Hawley, a former general and a military expert from the University of Glamorgan, said: "I think the loss of the Gurkhas will be felt both culturally and militarily in the Brecon area.
"There is affection for the Gurkhas... [they] have been uncomplaining servants of the British crown for 170 years.
"They have shared all sorts of hazards and dangers on battlefields across the globe fighting alongside British soldiers."
On Saturday there is an annual fundraising event in Brecon in aid of the Gurkha Welfare Trust, while Sunday sees the town's annual parade by the Mandalay company.
Meanwhile, the former head of the Army, Sir Mike Jackson, said the Gurkhas were being hit by defence cuts because of their success in boosting their pay and conditions.