New £6m bypass to improve safety opens in Four Crosses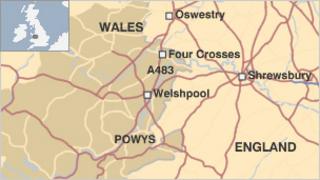 A bypass is being officially opened in Powys which will cut congestion and improve safety, claims the Welsh Government.
Lorries and cars used to travel through the centre of Four Crosses, but will now be diverted around the village near Welshpool.
Transport Minister Carl Sargeant said the £6m road had been delivered on time and on budget.
The 1,400m single carriageway bypass is on the A483.
Speaking before the opening, Mr Sargeant said: "This new bypass at Four Crosses, which was delivered on budget and within time scale, will make the village far safer as thousands of cars and lorries will no longer need to travel through the centre of the village as they follow the A483.
"The A483 plays a vital role in linking communities located on either side of Offa's Dyke as well as providing a main artery for tourism and other industries in mid Wales and this bypass will further improve that link."
The village school and members of the community have produced artwork for a mural on an underpass.
Powys council said the bypass offered "significant benefits to both road users and the local community".
During the construction of the bypass Roman, Bronze and Iron Age remains were unearthed at the site.