Theatr Powys and Theatr Gwaun close over funding issues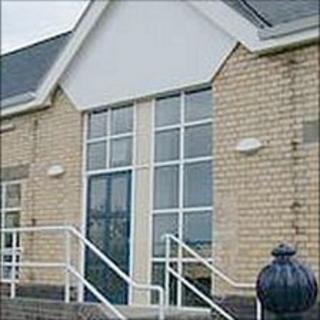 A theatre which has worked with schools in Powys for nearly 40 years is closing after suffering a major cut in funding.
Theatr Powys, based in Llandrindod Wells, was one of 32 organisations affected by the Arts Council of Wales (ACW) cuts last year.
Powys council, which owns the building, said support for theatre in schools would continue, while ACW said it had to make difficult choices.
Meanwhile, Pembrokeshire council is closing Theatr Gwaun in Fishguard.
The Pembrokeshire council cabinet voted unanimously in January to end support for Theatr Gwaun, which also has a cinema, after hearing it was making annual losses of more than £60,000.
A 2,900-signature petition calling for it to be saved was handed in.
But volunteers are looking at running of the building as a community enterprise. Friends of Theatr Gwaun are staging a special event on Friday to get feedback from local residents.
A campaign was also launched to save Theatr Powys.
Councillor Gwyn Gwillim, who is responsible for leisure and recreation in Powys, said: "It is regrettable that we will lose Theatr Powys, our resident production company.
"They have provided our schools and youngsters with a wonderful education over the past 38 years, a fact that has been acknowledged by the arts council in the past.
"Once the decision to cut funding by 53% was taken their position was not sustainable and (our) option was the only way forward to maintain theatre provision for children and young people in the county."
'All ages and backgrounds'
The council will spend £140,250 to maintain schools and youth theatre services in the county.
But the action group Campaign4Creativity, which has been fighting to keep the theatre open, said it had reservations about the quality of the support now Theatr Powys was closing.
A spokeswoman said: "Theatr Powys travels directly into the heart of communities by touring into schools and village halls. This makes theatre extremely accessible and affordable for people of all ages and backgrounds."
Theatr Powys reopened in 2006 after it was seriously damaged by fire a year earlier. The ACW helped fund the refurbishment, and renovation costs were put at £972,000.
An ACW spokeswoman said: "In times of pressure on public funding, we have to make choices, sometimes very difficult ones.
"Over the past few months we have provided support to Powys County Council to help them to explore and research new ways of working in the future. It is encouraging to see that the council will continue to support theatre in schools, and that this will be part of a new, wider strategy for children and young people's arts."