Beavers' reintroduction to Wales concerns NFU Cymru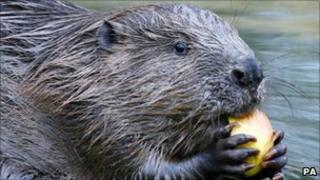 Plans to re-introduce the European beaver to Wales have been criticised by a farmers' union.
NFU Cymru is concerned they could escape from a habitat which will house a pair of beavers at Artist's Valley, near Machynlleth, Powys, this summer.
But the Wales Wild Land Foundation says the enclosure is designed to prevent them getting out.
The foundation also said if there was an escape they would be "relatively easy" to find again.
NFU Cymru has asked the Countryside Council for Wales, to "keep a close eye" on the project.
Beaver populations had fallen over the centuries, but after successful Europe-wide programmes of reintroduction, their numbers are now believed to be between 600,000-700,000.
Bernard Llewellyn, chairman of NFU Cymru's rural affairs board, asked how it could be known that the new beavers had any "ancestral link" to those which had become extinct in Wales many centuries before.
"Their habits could be totally different in habitats that are also very different."
Elsewhere, the Scottish Government seeks to recapture beavers which have escaped or been illegally released so they can be rehoused in enclosures. Land owners in Scotland have the right to kill them, although the Scottish Government discourages that.
Water quality
The Daily Telegraph website quoted the Polish interior minister Jerzy Miller saying that wild beavers were blamed for the country's record flooding last year.
But studies in Scandinavia have suggested their dams can improve both irrigation and water quality.
Simon Ayres, of the Wales Wild Land Foundation, said: "The enclosure has been designed to prevent the beavers from escaping.
"If you are going to put an animal into an enclosure you make sure it's going to stay there."
Mr Ayres said the foundation was taking advice from a leading consultant.
He said that if a beaver was to escape, "they are relatively easy to recapture and very little harm takes place."
"It has been thought through," he added.
Public opinion
The foundation said it believed the project was backed by the local population, and will prove to be a popular tourist attraction.
It has incorporated an observation area for visitors into the design of the enclosure.
Monitoring and research will also be carried out to evaluate whether the beaver can be reintroduced into more enclosed sites or back into the wild.
But according to NFU Cymru's Mr Llewellyn, these safeguards do not go far enough, as once there is an escape, any proposed cull has to battle not only the beavers, but also public opinion.
"Some of these beavers in Scotland, we've been informed, are masters at evading capture," said Mr Llewellyn.
"Apparently individuals there are opposing any cull of these escaped animals regardless of any damage they are doing to native plants and animals.
"We can only hope that the fences erected in Ceredigion will be secure enough to keep this pair in."