No delay on £1bn M4 relief road urge businesses
15 July 2014

From the section

Wales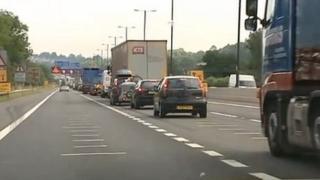 Four of Wales' leading business organisations have written an open letter to the transport minister calling for a quick decision on a new M4 relief road.
A consultation document was published last September.
The business bodies, including CBI Wales, want Edwina Hart to push forward the £1bn project around Newport without delay.
Traffic jams on the M4 are a regular problem for businesses and commuters.
The Welsh government's proposed long-term solution is a relief road.
'Long-term solution'
The argument from the business groups is that there has been widespread consultation, with responses submitted at the end of 2013.
The letter says: "Wales does not need a temporary fix but a sustainable long-term solution that strengthens the Welsh economy and gives business the tools and confidence to grow and invest."
Meanwhile, the UK government has allowed early access to borrowing powers to build the relief road and now they want Ms Hart to push forward with the project without delay.
CBI Wales, the Institute of Directors, the Engineering Employers Federation (EEF) and the South Wales Chamber of Commerce argue the project plays a key role in economic prosperity for Wales and it is "vital" that momentum is maintained.
They say that the unreliability of the existing M4 between Newport and Cardiff is hampering trade and job creation.
LETTER: 'There is no time to waste in moving forward with this vital initiative'
"As the main transport artery feeding the South Wales economy, many agree that the M4 around Newport is currently not fit for purpose.
"First opened in 1967 as a dual two-lane motorway bypass, this stretch of road utilises some of the oldest motorway tunnels in the UK. The road was designed and constructed to standards and traffic flows much lower than today.
"It is our view that the unreliability of this stretch of our transport network will increasingly generate additional costs and uncertainty for business, hampering inter-regional and international trade and as a consequence hinder the growth and jobs our economy needs."
Source: Extract of letter from CBI Wales Wales, EEF Wales, South Wales Chamber of Commerce
During the consultation several routes have been discussed with others arguing for more public transport and a smaller project.
Two of the options include a three-lane motorway between junction 23 at Magor and junction 29 at Castleton.
There have been some environmental objections, including worries over the impact on the Gwent Levels reserve.
A decision from Ms Hart is expected some time over the summer.
Chancellor George Osborne has called the relief road one of the most important road schemes in the UK.
Plans to ease congestion at the bottleneck gateway to south Wales were first unveiled in 2004.
But five years later the then Labour-Plaid coalition in Cardiff Bay shelved the idea when the estimated cost rose to £1bn.
However, UK ministers have since agreed Welsh ministers could borrow the money needed to fund the scheme.