Welfare reform 'takes toll on poor', Citizens Advice Cymru claims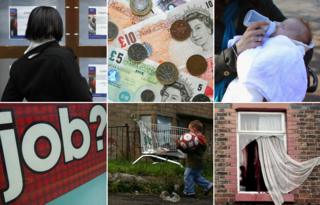 Vulnerable people are being forced into hardship due to welfare reform, Citizens Advice Cymru has claimed.
It was concerned at the mental and physical toll of benefit cuts and delays on people on low incomes.
Benefit and tax credit changes now accounted for more than two-fifths of problems handled by its advice offices in Wales, a report said.
The Department for Work and Pensions said its welfare reforms would make three million households better off.
The report - One Day at a Time - is based on evidence from citizens' advice offices across Wales, as well as interviews carried out by Shelter Cymru about the effects of the UK government's welfare reforms.
It was now the biggest problem area for citizens advice offices, accounting for 42% of the 141,500 problems handled in Wales in 2013/14, the report added.
Case study
Sandra (not her real name) is disabled and has two children with autism.
She told researchers that two years ago the local council extended her home downstairs to include a room for her daughter and a bathroom, leaving a spare bedroom upstairs.
Following the introduction of housing benefit penalties for under-occupancy - the so-called "bedroom tax" - Sandra took in a family friend as a lodger to act as her carer when she was bed-bound.
After declaring the arrangement in a face-to-face interview with the Department for Work and Pensions, she had all her benefits stopped.
She said: "They kept asking us the same questions as the form ... a few weeks later I had a letter through saying my benefits had stopped because I was co-habiting!
"The appeal was very lengthy and I had to go through it all again.
"This affected my mental health significantly and added to my physical illness.
"I pretty much live in fear every day that they are going to come knocking."
Sandra said she was left without any benefits for nine weeks, and lost all her means-tested benefits after she was judged to be co-habiting.
Fran Targett, director of Citizens Advice Cymru, said claimants were suffering from confusion, conflicting advice and delays in decision making as well as cuts in payments.
"The impact it is having on people's mental and physical health is particularly worrying," she said.
"Unless people receive the support they need early on to help them manage these benefit changes, it will likely lead to more costly interventions down the line, putting additional pressures on health and social care services which are already under considerable strain.
"A tougher sanctions regime and delays in decision making processes mean some people have no income at all for long periods of time which has only added to the hardship they are facing."
In May a couple who care for their severely disabled grandchild lost their appeal against cuts to their housing benefits because they have a spare bedroom.
Susan and Paul Rutherford, of Pembrokeshire, argued the room was essential because it is used by carers who look after Warren, 14, overnight.
The Department for Work and Pensions (DWP) was criticised for the way it communicated with claimants, especially people with long term health conditions, citing a lack of empathy, sensitivity and support.
The report called for the key UK and Wales agencies involved to work better together to explain the changes and to provide timely and consistent advice and support to those affected.
Jeff Cuthbert, the Welsh government's minister for communities and tackling poverty, said the UK government to rethink its planned roll-out of universal credit, a single payment designed to combine a range of working-age benefits and tax credits.
"We are not against the idea of welfare reform but have made clear our concerns about the scale and planned speed of change," he said.
"We believe that responsible reform should be delivered alongside the right help for those that need it and protection for those at greatest risk."
A DWP spokesman said: "The benefits system this Government inherited was broken, trapping the very people it was designed to help into cycles of worklessness and welfare dependency.
"Our welfare reforms will transform the lives of some of the poorest families in our communities with Universal Credit making three million households better off and lifting hundreds of thousands of children out of poverty.
"We continue to spend around £94bn a year on working age benefits to provide a safety net for millions of people on low incomes or unemployed so they can meet their basic needs."