Hain says Prince of Wales tried to influence NHS policy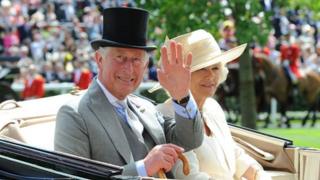 Former cabinet minister Peter Hain says Prince Charles encouraged him to press the Welsh government to introduce complementary medicine on the NHS.
Mr Hain said they had discussed it when he first became Welsh Secretary.
The Labour MP for Neath, who is also a former Northern Ireland secretary, added such conversations between the prince and Welsh secretaries took place regularly.
A spokeswoman for the prince would not comment on private conversations.
Mr Hain's comments are on a BBC Radio 4 documentary about the future monarch's conversations with politicians.
Prince Charles has been a long-term advocate for complementary medicine to be considered alongside more orthodox treatments.
A report commissioned by the prince in 2005 said complementary therapies should be given a greater role in the NHS.
Mr Hain said: "He had been constantly frustrated at his inability to persuade any health ministers anywhere that that was a good idea, and so he, as he once described it to me, found me unique from this point of view, in being somebody that actually agreed with him on this, and might want to deliver it.
"When I was Secretary of State for Northern Ireland in 2005-07, he was delighted when I told him that since I was running the place I could more or less do what I wanted to do.
"I was able to introduce a trial for complementary medicine on the NHS, and it had spectacularly good results, that people's well-being and health was vastly improved.
"And when he learnt about this he was really enthusiastic and tried to persuade the Welsh government to do the same thing and the government in Whitehall to do the same thing for England, but not successfully," added Mr Hain.
Mr Hain, who was Welsh secretary from 2002-08 and 2009-10, told BBC Radio Wales he is relaxed about the issue.
He added: "I've never been a monarchist but I respect Prince Charles's right to express his views in the way that he does.
"He doesn't campaign publicly... he's entitled to have private conversations."
---
Complementary medicine
Complementary and alternative medicines are treatments that fall outside of mainstream healthcare.
These medicines and treatments range from acupuncture and homeopathy to aromatherapy, meditation and colonic irrigation.
There is no universally agreed definition of complementary and alternative medicine.
SOURCE: NHS Choices
---
He added: "He's the Prince of Wales, I was Secretary of State for Wales. Secretaries of State for Wales - which is how we first got into this agenda together - have regular conversations with the Prince of Wales, and that's quite proper.
"He wants to know what's going on in Wales, I'm able to provide him with an insight... and the conversation then led on to other things."
He added that the pair had "had our disagreements as well, over hunting for example".
A spokeswoman for the prince said: "The Prince of Wales seeks to help people and communities here and abroad in whatever way he can. We would not comment on private conversations".