BMA: Wales staff pay 'could threaten recruitment'
25 June 2014

From the section

Wales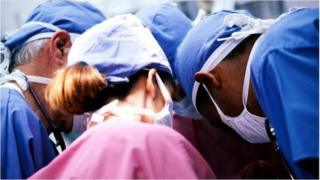 Healthcare staff could be put off coming to work in Wales because of pay levels, a doctors' organisation has claimed.
BMA Cymru said pay plans - including potential cuts - would "worsen the continuing recruitment crisis in Wales".
At the BMA conference, Welsh chair Philip Banfield said frontline staff's morale was at an all-time low.
The Welsh government insisted there were no proposals to cut pay.
The BMA said the Welsh government had rejected a recommendation by the Doctors and Dentists Review Body to raise pay by 1% - as did England - and had gone further by proposing to cut salaries.
This would mean consultants in Wales would earn 5% less than their counterparts in the UK.
Scotland has implemented the pay rise.
ANALYSIS
Health correspondent Owain Clarke has been examining some of the issues raised on both sides of the argument:
The warning from Welsh delegates at the BMA's at the annual conference is stark.
Consultants in Wales claim they already feel "demoralised" and "under-valued", struggling to deliver top-notch care facing ever-tighter budgets and ever-rising demand.
They claim the "crisis" could deepen further still if their salaries are cut.
But the Welsh Government is equally adamant that the BMA have got their figures wrong.
It says there are no specific proposals to cut consultants pay.
So for now it's a stale-mate, but in deciding to speak out so plainly today, what's clear is the BMA want to raise the temperature of this debate.
BMA Cymru said it had received emails and letters from over 450 consultants - around a quarter of Wales' consultants - with some expressing their intention to leave the country or retire, while others said morale would sink ever lower and recruitment would be made even more difficult.
In a speech to the conference in Harrogate, Dr Banfield said Wales was facing a "stark future" which could "scar the nation".
"Frontline clinical staff have morale at an all time low, stress at an all time high and this is when mistakes happen and patients die unnecessarily," he told delegates.
The BMA also claimed Wales spent £200 less per head on health than England, which the Welsh government disputed, saying it spent £42 more per head.
'No pay cuts'
However a spokesperson for the Welsh government also insisted: "There are no proposals to cut consultants' pay."
The government official added: "We share BMA Wales' aim of continuing to improve healthcare, but regret it has been unable to come to the table to negotiate with NHS employers in Wales about the reform of terms and conditions in the Welsh consultants' contract.
"In the absence of Welsh discussions, which we would very much have preferred, we are now considering how we can ensure that comparable opportunities are available to consultants in Wales as to their colleagues in England."