Parc Prison: Phillip Finselbach jailed for drug smuggling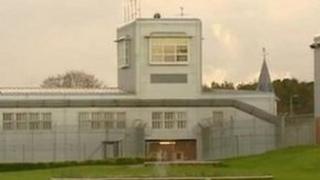 A prison staff member who smuggled heroin and a mobile phone into a jail has been given a six year sentence.
Phillip Finselbach, 34, a cookery instructor at Parc Prison, Bridgend, was branded a "chancer" by Judge Daniel Williams at Newport Crown Court.
Finselbach, from Swansea, claimed a prisoner had forced him to do it.
He admitted various charges and the judge said an increase in drugs at the prison was down to him.
An investigation was launched after a rise in positive results during random drug testing on the B3 wing.
When he was searched, a mobile phone was found clutched between his buttocks.
Finselbach claimed he had simply forgotten to put it in his locker before entering the prison wings.
However, he admitted conspiracy to bring a mobile phone and drugs into prison and conveying a mobile phone into prison.
The judge rejected his claim the incident had been a one-off and told Finselbach he was "satisfied that the significant increase in the amount of drugs coming into the wing is referable to you".
Finselbach claimed prisoner Jason Farrell, serving a 13-year sentence, pressurised him to bring the mobile phone and drugs, telling him he and his family were in danger if he refused.