D-Day veterans remember the beaches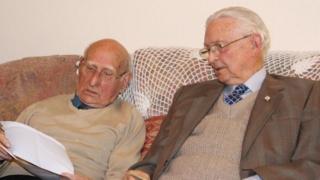 As part of the D-Day 70th anniversary commemorations, BBC Wales has spoken to veterans involved in the Normandy landings about their roles in the invasion.
William Pritchard from Ruthin was one of the first ordinary soldiers to find out that D-Day was happening.
An office worker in peace time, Mr Pritchard joined the Royal Welsh Fusiliers and worked as a clerk at headquarters.
In 1944, aged 26, he was sent to help run a camp at Fawley near Southampton which turned out to be a transit camp preparing for the Normandy invasion.
He was on duty and was just being told to retire for the night when the telephone call came through ordering embarkation for D-Day, sparking days of unending work sending troops on their way.
Gordon Prime, from Jameston, near Tenby in Pembrokeshire, was 20 when he crossed the English Channel as part of the D-Day landing force.
He was with 89 Company, Royal Army Service Corps (RASC) attached to the Canadian Army and his mission was to supply units with rations, petrol, diesel and anything else they needed.
He landed on Juno beach on D-Day at Courseulles before driving from the beach about a mile inland to Gray-sur-Mer.
Glen Jones, 90, from Burry Port was also in the RASC, in 716 Light Composite Company.
Unlike Mr Prime, he did not land on the Normandy beaches but crossed the channel on a glider carrying his jeep and a trailer loaded with ammunition and had to land in the middle of the night.
The co-pilot from the plane was shot within a short space of time by friendly fire from Allied paratroopers.
During his time in Normandy, Mr Jones had a brief meeting with a friend from his school days.
Reg Pye from the same town drove past Mr Jones as he was en route to make a delivery. They exchanged a few words and hoped to meet on the return journey, but a blown up bridge put paid to that.
He had come over on one of the landing craft but a storm had diverted his original destination from Gold Beach to Sword Beach.
Mr Pye, who served with 224 Field Company, Royal Engineers, acted as a driver carrying sappers, mines and ammunitions.
The two men reconnected after the war and have remained friends for 70 years.
Brigadier Sir Nick Somerville from Brecon was a 20-year-old lieutenant working as an intelligence officer with the 2nd Battalion, South Wales Borderers when D-Day approached.
He was part of the second wave of the assault on the day, and knew that if the first attack had failed it would be part of his job to make a breakthrough.
Armed with a bicycle and maps, he landed on Gold Beach and had to navigate a way through the devastation surrounding the beaches to a rendezvous eight miles inland along with other members of the 24th regiment.
The reality of attack hit home within minutes as he saw a comrade shot in the head just behind him.
Frank James, 95, from Newport, landed in Normandy on the night of the D-Day landings.
After spending a night on board ship coming under fire, the 25-year-old supply driver for the Tank Corp, Royal Dragoon Guards took his load of ammunition on to the beach and onward to the drop-off point.
He had to return to the beaches to collect more ammunition to create a dump inland, from where he would take supplies to the units that needed it.