Clear-up in south Wales after storms bring flooding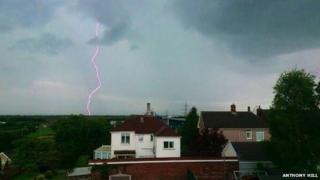 Businesses and home owners are clearing up after thunderstorms on Thursday caused flash flooding in south Wales.
South Wales Fire and Rescue Service said it received 174 flooding-related calls in a four-hour period.
The worst hit areas included Cwmbran in Torfaen, where an elderly couple were rescued from their home, and Penarth in the Vale of Glamorgan.
In Newport, firefighters rescued 60 sheep which were trapped by flood water and pumped water from several homes.
One of the businesses clearing up after flooding is Romeo's By The Sea restaurant in Penarth.
Manager Rhiannon Hartland told BBC Wales the carpet had been damaged but she was confident it would be sorted out quickly and the restaurant would open.
"The customers couldn't leave the building. We were all stuck inside for a good half an hour," she said.
"I wasn't expecting it to come inside the restaurant so I was a bit panicky.
"It came up just past the door but luckily the rain stopped then."
South Wales Fire and Rescue Service said it received 141 flooding-related calls in Cwmbran and Newport alone.
Fire crews pumped out water from six houses at Larch Grove, Newport, and a property in Brynglas.
Firefighters also led trapped sheep to safety at Malpas Road at 19:00 BST, helping them to higher ground.
Murch Primary School in Dinas Powys, Vale of Glamorgan, will be shut on Friday due to flooding, while Asda in Cwmbran was evacuated after water came in through the roof, affecting the electrics.
One lane of the M4 at the Brynglas tunnels in Newport was also closed due to flash flooding.
Lightning was recorded in Penarth, Cardiff, Newport, Cwmbran, Pontypool, Ebbw Vale, Port Talbot and Swansea.
More rain is expected on Friday with heavy showers in areas, some potentially thundery.