Stroke services investment' needed in Wales'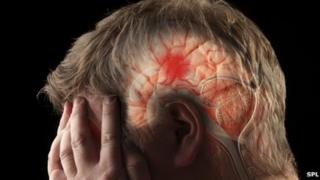 Seven hospitals in Wales are ranked among the 20 worst performing in the UK for stroke care, according to a report.
The figures come from an audit by the Royal College of Physicians (RCP) of all hospitals in Britain of the last three months of 2013.
The RCP said it showed there is a need for more investment in stroke services in Wales.
But the Welsh government said there have been significant improvements in stroke care in recent years.
The RCP's audit measured things like how quickly scans are given and how long it takes for therapy to be provided.
National network
Dr Alan Rees, RCP's vice-president for Wales, said: "While the results in Wales are disappointing, this is the early phase of a new audit process against more stringent standards.
"Our hospitals are undergoing a phased introduction to a new system of reporting stroke data to this audit and it's important to remember that this is only the second reporting quarter for Welsh health boards.
"We would expect a natural continual improvement over the next year as the system beds in.
"However, this should not detract from the need for more investment in stroke services.
"The RCP has called for the introduction of a national stroke network for Wales, with funding and staff, which would be able to support health boards to improve services, and would be able to monitor the progress of the national and local stroke delivery plans in Wales."
The Welsh Liberal Democrats have described the results as "hugely disappointing", saying they show Wales is "miles behind the rest of the UK for stroke treatment".
'Making progress'
"Significant improvements have been achieved in stroke care in Wales in recent years," said a Welsh government spokesperson.
"We must pick up the pace of improvement to ensure Welsh patients get the best possible quality of care."
The spokesperson added: "All health boards are making progress in delivering against actions in the Stroke Delivery Plan and the next annual report will be published in October on World Stroke Day."