Teachers' pay move 'inevitable' says UCAC union
20 April 2014

From the section

Wales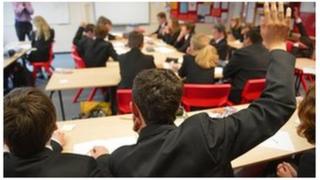 Decisions on the pay and conditions of teachers will "inevitably" be devolved to Wales, said a teaching union.
Welsh union UCAC said the Welsh government had previously "buried its head in the sand" by opposing a move from the current national pay model for Wales and England.
But the Welsh government has recently changed its approach saying there would be "merits" to the change.
Other teaching unions fear it would lead to lower pay and more bureaucracy.
The Welsh government is responsible for education in Wales but decisions over teachers' pay and conditions are made by the UK government.
Welsh ministers have previously said they would prefer it to stay that way because the system was fairer and more cost effective.
But the Silk Commission report into the powers of the assembly recommended that decisions on teachers' pay and conditions should be devolved.
And Education Minister Huw Lewis said in the Senedd earlier this month that he broadly welcomed the recommendation.
Elaine Edwards of UCAC told BBC Radio Wales's Sunday Supplement programme that a national agreement set by the Welsh government in consultation with stakeholders would be the "best situation for teachers in Wales".
"I do think it's inevitable that teachers' pay and conditions, the decision making, will be devolved to Wales," she said.
"The Silk Commission has recommended that, but the Welsh government - even though it opposed that idea in the past - has now faced a Westminster government that has recommended it as being the logical consequence of the divergence of the two education systems in England and Wales."
She added: "I think up until now the Welsh government has been burying its head in the sand.
But NUT Cymru secretary David Evans said devolving pay and conditions would "drive down teachers' salaries in Wales".
"We just won't be able to afford it," he said.
"We know that the devolved settlement in Wales is £1.7bn less this year than it was back in 2010/11.
Suspicious
"With those sort of shortfalls, someone has to pay somewhere along the line and it could be that teachers lose out."
However he said the union would be "engaging" with the Welsh government over the issue to ensure the best for its members.
"We prefer at this moment in time to be discussing the matter with the Westminster government which has the responsibility for it but [we are] gearing up if the inevitable comes," said Mr Evans.
ATL Cymru union has said the vast majority of teachers are suspicious of the change and would need convincing it was the best option.
While previously the Welsh government has said it would prefer the status quo, its stance has now softened.
Earlier this month, Education Minister Mr Lewis said he "broadly welcomed" the Silk Commission's recommendation,
"However, my first concern would be to ensure that we have a proper devolution of the funding that is necessary to administer such devolution of pay and conditions," he said.