Patrick O'Brien tried to steal AM Byron Davies's black cab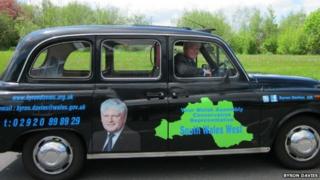 A burglar tried to make his getaway from a Welsh assembly member's house in a black cab which had the politician's photo on it, Swansea Crown Court heard.
Patrick O'Brien took the keys to Byron Davies's distinctive cab, but forgot the immobiliser.
The Tory AM, a former Met Police detective, said the burglar's actions were "not very bright".
O'Brien, 32, of Sketty, Swansea admitted burglary and was jailed for six years
He also admitted handling stolen goods, aggravated vehicle taking and driving while disqualified.
Mr Davies bought the 1991 black cab eight years ago and uses it for political duties.
It features his photo and name on the side, a map of his South West Wales constituency, and his contact details.
The court heard O'Brien could not get the cab to start after making off from Mr Davies's home in Penclawdd, Swansea, which he broke into just before Christmas.
Mr Davies said O'Brien had "stupidly" left the immobiliser key in his home.
The Tory AM served 32 years in the police, rising to detective chief inspector, and investigated many break-ins.
But he told the court in an impact statement that he had "never truly understood it until being a victim myself".
O'Brien stole Mr Davies's medals for his long service with the police and the RAF reservists. The medals were recovered after O'Brien's arrest and will be returned to the AM.
'Consequences'
Mr Davies told BBC Wales after the case that O'Brien had left the cab window open after his failed getaway, and torrential rain had damaged the vehicle. He also had to fit a new alarm system and CCTV at his home.
O'Brien was caught about a week after the burglary, after crashing a stolen car into a ditch while trying to speed away from police. He ran off but was tracked down with the help of a police helicopter and dog handlers.
Mr Davies said: "I spent all my police service as a detective with the Metropolitan Police and I've investigated hundreds of burglaries over the years.
"I kind of understood the consequences, but it's different [when you are the victim]. It certainly affected my wife."
He called O'Brien's sentence fair.
"Nobody likes to see people sent to prison, but the public has to be protected," he said.
"He's a prolific burglar. I'm a firm believer that punishment should be so effective that people do not want to go back for it a second time".