Cardiff schools must further improve, inspectors warn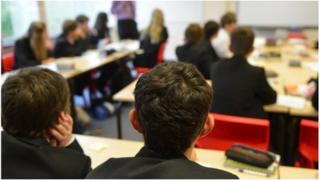 Cardiff's schools are not improving fast enough to satisfy Wales' education watchdog, despite three inspections.
Estyn said it would be increasing its scrutiny after categorising the city's education services as being in need of significant improvement.
It is the second lowest category for local authorities - the lowest being unsatisfactory.
Cardiff council said a plan was already in place to deal with long-standing and systemic issues.
Education Minister Huw Lewis said he felt a "great deal of disappointment" about the findings.
Cardiff is the largest education authority in Wales, and Estyn raised concerns when it inspected school services in January 2011.
It ordered that the issues were addressed, but after a second visit in July 2012 inspectors said they were still not satisfied with the pace of improvement.
The third inspection took place in February this year.
The inspectors judged Cardiff to have made progress since the previous inspection in 2012 but that the level of follow-up activity needed to be increased.
In its report to the council, Estyn said: "Most outcomes for children and young people have not improved well enough during this period, and not enough progress has been made in many areas for improvement in provision and leadership and management."
While inspectors found that many aspects of the council's support for schools had improved, they also found areas where progress had been insufficient.
GCSE performance has deteriorated over the last three years, and the gap in performance between pupils eligible for free school meals and those not eligible is bigger in Cardiff than in the rest of Wales.
There were also issues raised about high senior management turnover.
The authority has 50 days to prepare an action plan.
Cardiff council cabinet member for education and skills, Julia Magill, said: "We are under no illusion of the task we are facing.
"Education is a key priority for Cardiff and the recommendations Estyn makes for our improvement are ones which we have already identified and form a part of both the education development plan and the corporate plan."
She added the council had agreed with the Welsh government that an action plan to address the letter would be submitted in 10 days rather than the 50 requested by Estyn.
She added: "The issues in Cardiff are long standing and systemic and we welcome the chance to work with all partners to have a singular focus on the improvement in education for all learners to deliver the aspirations for high standards which we expect and which Cardiff requires."
The education minister said in a written statement he was disappointed and has insisted that Welsh government officials give support and guidance to the council as they work on an improvement plan.
"I expect the authority to adopt the good practice evident from a number of my ministerial recovery boards and to ensure that they secure objective, external challenge, advice and guidance as they address their shortcomings," he said.
"In order to support the authority in doing this I commit officials within my department to work with the authority to help, challenge and support them in their improvement journey.
"I expect the authority to accept this support and guidance and to work productively with my officials in preparing and actioning their response to the inspection.
"Once I have fully considered the authority's response and taken further advice from HMCI on the robustness of the authority's plans I will consider whether the authority requires any further intervention using powers available to me as Welsh minister."