Gleision mining disaster: Six seconds of horror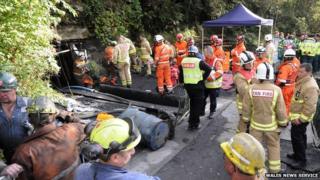 Imagine yourself in this situation for just a moment.
You are crouched in a dark space, barely the height of an average kitchen cabinet. There is an explosion. Silence. Darkness. Then noise. Noise akin to that of a jet engine. The source of that terrifying sound - 650,000 gallons of water on the move.
This is only part of what can be imagined of the horrors which unfolded inside the Gleision Colliery, on 15 September 2011.
Four miners lost their lives instantly, overwhelmed by the torrent which tore through the underground shafts in six seconds.
Three miners managed a desperate escape into daylight, only to witness the 33 desperate hours it took emergency services and mine rescue specialists to find the bodies of their late colleagues.
Gleision, open since 1993, worked coal under a very steep hillside above the banks of the river Tawe.
Early that morning, the seven men walked through the narrow entrance to the small drift mine, cut into the side of a hill.
When the owner Malcolm Fyfield arrived at 6.30am, work was to be carried out to connect two parts of the mine to improve ventilation.
Water was an ever present threat, requiring the miners to wear waterproofs. Water from old workings would flow in through the floor and roof and had to be regularly pumped out.
Controlled explosions were also regularly used to blast into the coal face.
But that morning's "firing" did not go according to plan.
Nigel Evans had only been working at Gleision for three days.
'No hope'
He vividly described the "tremendous whooshing" noise, then an unusual wind and the sight of a lamp in the mine shaking furiously.
Then he saw his new colleague David "Jake" Wyatt.
"He was visibly panicking and running," recalled Evans.
"He was shouting 'run'. So I just ran out of the main drift.
"I didn't look back. I was going as fast as I could go."
Wyatt managed to get 50 yards before, exhausted, he could not make it any further. Luckily, the water stopped just yards behind him and he was rescued.
The men at Gleision were used to working on their hands and knees; it was mining in an old-fashioned way.
Fyfield crawled through mud and sludge.
But as he reached waiting paramedics, his words were sombre.
"They've gone. There is no hope for the others," he said.
Four miners were missing and Charles Breslin, 62, David Powell, 50, Garry Jenkins, 39, and Philip Hill, 44, stood little chance.
Rescue teams searched the 100-year-old mine for hours in the desperate hope that the four would be found alive.
The families of the victims knew working in these conditions was risky and some had even asked their loved ones to give it up.
The distress as they waited for the fateful news was incalculable as the operation continued.
Charles Breslin's wife Mavis said: "It was stressful and never ending waiting, hoping and hoping that we'd hear something. The tension building up to it was awful."
Divers were sent into the mine see if they could reach the men but were forced back because debris made the water too murky.
While water was being pumped out, oxygen was pumped into the mine while sound detection experts were drafted in.
Alex Jenkins, the teenage son of Garry Jenkins, added: "I didn't sleep for the two days and the rest of the family were in constant tears. The one or two who had hope were in tears themselves."
The wider world was by now watching and waiting too. Key figures including First Minister Carwyn Jones, the then Welsh Secretary Cheryl Gillan and local MP Peter Hani visited the centre during the search to offer their support while Prime Minister David Cameron sent a message.
But by 08:30 BST on the Friday, hope began to fade.
"When they found the first body, it didn't look like they were going to find the others either," Mrs Breslin said.
"You could pick up on the hints. That's when the despair set in."
There was a grim atmosphere at the community centre when news came that a second body and then third body had been found.
Lynette Powell had been waiting at the community centre hoping for news on her husband David but she was advised to go home.
"It was the right decision to go home because soon after, we were told that he was gone," she said. "From then, you were numb."
By 18:00 GMT, confirmation came through that the last of the four bodies had been recovered, leaving families devastated and rescuers shattered that their efforts were in vain.