Cadw considers request to list BBC Wales headquarters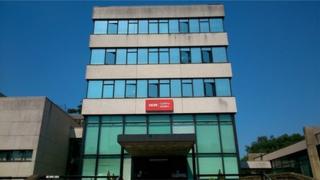 The body in charge of protecting buildings and monuments in Wales has been asked to consider giving the BBC Wales headquarters in Cardiff listed status.
BBC Wales has been trying to find a buyer for the Llandaff site, as part of multi-million pound plans to move to a new purpose-built broadcasting base.
But Cadw said it was considering if the building met listed status criteria.
BBC Wales said it had "significant concerns" over the matter.
Broadcasting House in Cardiff has been home to BBC Cymru Wales since 1966.
In August, the corporation announced that it was putting Broadcasting House and the building opposite, Ty Oldfield, up for sale and looking at moving to another site in Cardiff.
However, Cadw has confirmed it was looking at a request to list the site.
A Cadw spokesperson said: "There is a statutory duty to list any building that meets the criteria to be listed.
"It would be inappropriate to comment on the merits of the case for listing while it is under consideration."
A BBC Wales spokesperson said: "We can confirm that we have written to Cadw in response to a letter they sent us seeking our views on their proposed listing of our entire main building in Llandaff.
"We have a number of significant concerns about their plans which we hope Cadw will now consider carefully."