Bug shuts Bridgend and Morriston hospital wards to visitors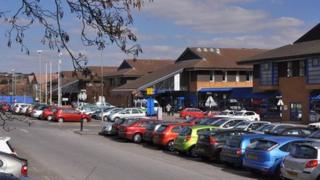 Three wards at two south Wales hospitals have been closed to general visitors because of an outbreak of diarrhoea and vomiting.
Wards 5 and 6 at the Princess of Wales Hospital in Bridgend and the clinical decision unit (CDU) at Morriston Hospital in Swansea are affected.
Abertawe Bro Morgannwg University Health Board said the wards remained open for patients.
The board has asked anyone with recent sickness or flu symptoms to stay away.
Vulnerable people
Dr Push Mangat, interim medical director and consultant in intensive care medicine and anaesthesia, said sickness and diarrhoea bugs, which start in the community, spread very easily and could be a lot worse for the very young, the elderly and those with chronic illnesses.
He said sickness cases added to the pressures on hospital services.
"We currently have two wards closed at the Princess of Wales Hospital because of sickness and diarrhoea.
"Not only is this awful for the patients who are already poorly, but it means they can't have visitors and we have to restrict the use of the wards.
"This reduces our ability to admit other patients to our hospitals - e.g. from the emergency department."
Dr Mangat appealed for people who were unwell to stay at home for 48 hours after their last incidence of sickness or diarrhoea and not have visitors.
"You must keep contact with others to a minimum and most of all please do not visit hospitals or those who are vulnerable such as the elderly, the very young and those with chronic illnesses," he added.