Lord Rennard dispute: All sides in 'no-man's land' says accuser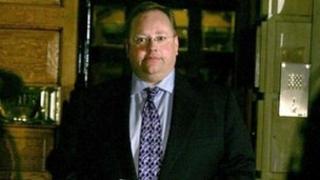 A woman who accused Lib Dem peer Lord Rennard of sexual harassment said all sides were in "no-man's land" after the allegations were rejected but he was still asked to apologise.
Welsh Lib Dem activist Alison Goldsworthy and three other women made the claims last year.
Lord Rennard was due back in Parliament on Monday but the Lib Dem leader said his party membership was suspended.
Nick Clegg had called for him to apologise beforehand.
Ms Goldsworthy, deputy chair of the Liberal Democrats' federal executive, has told BBC Radio Wales the women had appealed against the findings of an inquiry into Lord Rennard's behaviour that he had no case to answer.
"One of the reasons we decided to speak out last year is we were all done with politics' horrendous attitudes to women and the culture of it, in Wales and in Westminster," she said.
"I don't agree with the decision that the party made - that because that it might not be proved beyond reasonable doubt that it wouldn't go forward.
"In most employment situations the standard of proof is to do with a balance of probabilities - do we think that this happened and do we think that we believe them?"
'Byzantine processes'
She added: "I actually think that the no-man's land we find ourselves in at the moment is absurd and unfair to everybody involved in this process, both Lord Rennard and all of us.
"There does deserve to be a firm decision.
"Political parties often have Byzantine processes and the Lib Dems are particularly bad."
Lord Rennard had resigned the party whip.
His legal adviser, Lord Alex Carlile, blamed "incompetent administration" by the Lib Dems of the disciplinary procedure, saying they had "tried to avoid" following "clear written rules".
"The reality of this situation is that Alison Goldsworthy and three other women made complaints. Therefore statements, and 50 statements in favour of Lord Rennard, were put in front of Alistair Webster, the so-called investigator of the process," he said.
"Following a seven-month investigation, Mr Webster found there was no case to answer, whether on the criminal or the civil standard of proof.
"The party should have awaited that verdict with dignity and accepted it.
'Legal process'
"Consistently, Nick Clegg and [Lib Dem president] Tim Farron have made statements which seem to accept that the accounts of the women were true.
"What we cannot have is a legal process in which a judge as it were says 'I find you not guilty but don't do it again'."
Meanwhile on Monday afternoon, the Lib Dems said Mr Clegg had made it clear that it would be inappropriate for Lord Rennard to resume the Liberal Democrat whip unless he apologised but he had "refused to do so".
"The Regional Parties Committee, which oversees disciplinary procedures under the English Party membership rules, today decided to suspend Lord Rennard's membership of the party pending a disciplinary procedure. As such, he cannot return to the Liberal Democrat group in the House of Lords," the party said in a statement.
"Lord Rennard will now be investigated for bringing the party into disrepute on the grounds of his failure to apologise as recommended by Alistair Webster QC."