Tent move saves backpackers from campsite tree crash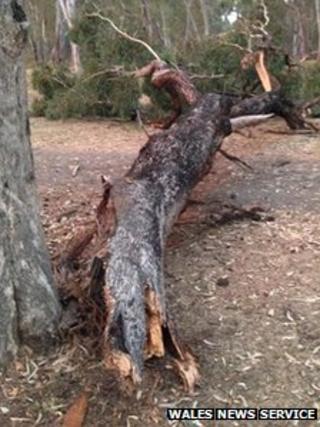 Two backpackers have been speaking of their escape when a 50ft tree crashed on an Australian campsite - landing where they first pitched their tent.
Robert Costley and Peter Ashford, both 25 and from Cardiff, moved to a shadier spot to escape the 40 degree heat.
They were woken in the night by the crash and found the tree had fallen on the spot they originally chose.
"We were very lucky - if that had landed on us we would have been crushed to death," said Mr Costley.
"Luckily we had moved our tent a couple of hours earlier to try to escape the heat."
The high temperatures gripping Australia were blamed for bringing the eucalyptus tree down from the spot where it had stood for over 70 years at around 06:00 local time on Wednesday.
The pair were camping at the site near Shepparton in rural Victoria while fruit picking in the area.