How television turf war fuels Welsh rugby regions row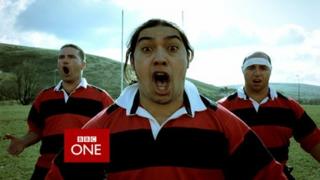 Since rugby union turned professional in 1995, money from television coverage has become a crucial revenue stream for the top clubs and the national game.
For much of that time, traditional broadcasters like the BBC, ITV and S4C have competed with subscription services such as Sky Sports for the right to broadcast live matches and highlights programmes.
But growing competition between dedicated sports channels has led some to predict that the Welsh rugby regions' fans will have to pay to see the best live games on TV in future, with the prospect of free-to-air coverage confined to second-choice matches or competition highlights.
The arrival of BT Sport to the market for television rights has heightened competition and brought the prospect of greater broadcast revenue for the Welsh rugby regions.
A proposal for a new competition featuring the Welsh regions and English premiership clubs, and screened by BT Sport, would be worth an extra £12m over three seasons, according to the regions.
This alternative competition has contributed to the current dispute between regions and the WRU, as it is not supported by the Welsh Rugby Union (WRU) or the sport's governing body, the International Rugby Board (IRB).
BT Sport was established in August last year and in November it successfully bid almost £900m for the exclusive broadcast rights to football's Champions League and Europa League matches for three years from 2015.
Top teams
Toby Syfret, from the media research organisation Enders Analysis, said BT Sport was hoping to secure a diverse selection of sports for its channels, including rugby union.
He said: "If they wish to be a specialist premium sports provider, they cannot rely on just football.
"And they have, right from the beginning, showed their interest in rugby as well. It will be a question of other sports.
"But then comes the big question: 'If we do that, how much are we going to bid when it comes to the next battle for English Premier League rights?' which soak up an enormous amount of the total budgets."
The amounts being proposed for rugby rights are still significantly less than the revenue generated by football's television deals.
But much of the pressure for increasing the price of rugby's TV contracts comes from France, where big-money agreements have become a common occurrence in the battle for exclusive coverage of the country's top teams.
On Wednesday, the French broadcaster Canal+ secured a deal reportedly worth just under £60m a year to broadcast France's Top 14 club championship, more than double the existing agreement, and a sum that will not go unnoticed by Welsh regions as they lobby to increase their TV revenue.
In Wales, the TV rights funds currently come primarily from the BBC, S4C and Sky Sports.
The Pro12 competition - currently featuring Welsh, Scottish, Irish and Italian teams - has been broadcast by the BBC since its inception as the Celtic League, but from the start of the 2014/15 season Sky Sports will be the primary rights holders, having agreed to pay £5.5m a year for the privilege.
A joint bid by the BBC and S4C for secondary rights has yet to be officially confirmed, but is understood to be worth £3.2m a year.
In a statement, BBC Wales said: "We can confirm that discussions regarding broadcasting rights for the Pro12 have not been concluded. We are monitoring the current situation closely."
Live rights
The futures of the Pro12 competition and the Heineken Cup, which is broadcast by Sky Sports, are currently under discussion as part of the regions' dispute with the WRU.
The proposal for a new competition to be broadcast by BT Sport is a key sticking point in those talks, especially as it lacks the support of either the WRU or the IRB.
Sion Clwyd Roberts is a media expert at Capital Law, legal advisors to the Cardiff Blues region. He said the competition between broadcasters meant fewer live matches are likely to be available on free-to-air TV channels in future.
He said: "It is difficult for the BBC, as well as ITV and S4C, to maintain a place in the extremely competitive market for live broadcasting rights.
"The real value is in live matches, as opposed to highlights, and I think that the terrestrial broadcasters will be increasingly dependent on highlights rather than on live fixtures going forward."
Another option for keeping live rugby on terrestrial channels could involve further attempts to split the rights between subscription and free-to-air broadcasters, as has happened with the Pro12 competition from 2014/15.
Geraint Rowlands is a TV sport executive who has worked for the BBC, S4C and independent production companies. He said the large rugby audiences that watch games on free-to-air channels mean they can offer benefits to the game other than large financial rewards.
"If you sell a sport in its entirety to a subscription-based broadcaster then you have to be very, very careful that you don't disenfranchise all your viewing pubic, or some of your viewing public, who may decide not to actually subscribe.
"So the public service broadcasters are still in a very, very strong position because they will be able to reach the widest possible audience," he said.
Television rights deals continue to hold huge influence over which rugby competitions are viable, and which clubs some of the game's best sportsmen will choose to join.
With greater competition in the market for sports rights, the money generated by their sale will continue to be one of the game's most important sources of income.
A Scrum V Special on the state of Welsh rugby can be seen on BBC Two Wales on Sunday, 18 January, at 18:15 GMT