Carwyn Jones and David Jones focus on economy in 2014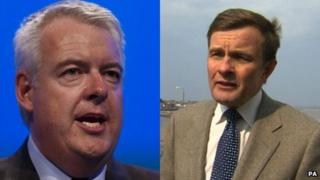 Political leaders in Wales are looking to positive economic signs at the start of 2014.
But First Minister Carwyn Jones acknowledged times were still tough for many in the country.
Meanwhile Welsh Secretary David Jones said the UK government had to hold its nerve as it rose to the challenges ahead.
Both men pointed to record numbers in work in 2013 in their New Year messages.
Welsh Labour leader Carwyn Jones said: "We are open and honest about the challenges we face but our commitment will not falter."
He said 2013 had seen some positive signs that Wales was "recovering well from one of the longest economic downturns in living memory".
He said the number of people in work in Wales was now at a record high - with Wales outperforming the UK as a whole.
"There has also been a big fall in the number of young people out of work - with our flagship Jobs Growth Wales programme helping to create thousands of opportunities for the workforce of the future," he said.
Mr Jones also said there had been a massive increase in foreign investment in Wales.
But he admitted that life continued to be tough for many people.
"Spirally living costs, combined with changes to the welfare system, are clearly impacting upon people's ability to meet day-to-day costs," he said.
"That is why we will continue to do everything we can to support people through this difficult period."
In his New Year message, Conservative David Jones also focused on his party's measures to tackle the economic crisis.
It must never be forgotten, he said, that the UK government "inherited an appalling legacy" which meant it had to take "incredibly hard decisions".
'Rise to the challenge'
Mr Jones went on: "I know that some of these decisions will have affected you personally or professionally.
"But only by holding our nerve have we been able to rise to the challenge and become the fastest growing economy in the Western world."
The Welsh secretary also said the economic recovery was growing and was gathering pace.
"In Wales, we have seen companies consistently demonstrate that they aren't simply surviving, but are innovating and thriving," he said.
"We have record numbers of people in work and, over the last year, Wales has seen the largest percentage increase in private sector employment of any region in the UK."
In their messages the leaders also looked forward to Wales hosting the Nato summit, which was announced by Prime Minister David Cameron in November on a visit to Cardiff.
Both leaders said they would make sure September's summit, at the Celtic Manor Resort in Newport, was used to ensure Wales shone on the international stage.